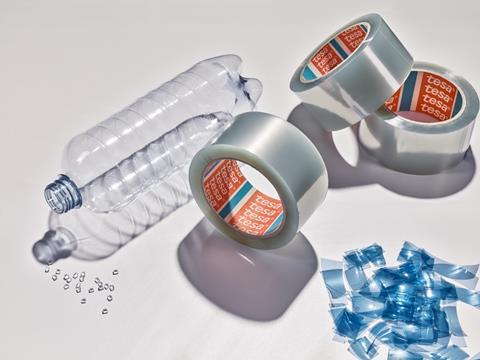 Adhesive tape manufacturer tesa has launched its new 60412 Recycled PET packaging tape, expected to become a more sustainable replacement for filmic tapes.
Designed for packages weighing up to 30kg, the tape is suitable for manual and automatic dispensers; tesa claims that the tape is as effective as PVC or biaxially oriented polypropylene (BOPP) tapes. Its abrasion-resistant backing and pressure-sensitive acrylic adhesive are said to be compatible with recycled cardboard and result in low noise unwind.
Recycled polyethylene (PET) products are said to be the raw material behind the new design. With 70% of it reported to come from post-consumer recycling (PCR), the tape should be suitable for standard paper recycling bins, and it is hoped that it will contribute to the circular economy.
60412 Recycled PET is compatible with most types of ink systems, meaning that companies can print logos and advertising onto the tape itself. It is also said to feature a waterborne acrylic adhesive system.
"Our latest 60412 Recycled PET packaging tape has been engineered to minimise its impact on the environment, while maximising on adhesion performance," says Andreas Walkembach, head of Industrial Trade & Converting Europe at tesa. "By choosing a more sustainable packaging tape, customers can step closer to their targets and we at tesa are proud to help them on that journey."
This new design comes after the release of tesa's Softprint X-Hard plate mounting tape four years ago, which improved the quality of printing and labelling and sought to combat pin-holing.
Fellow tape manufacturer monta released its own self-adhesive, eco-friendly and directly printable tape earlier this year.