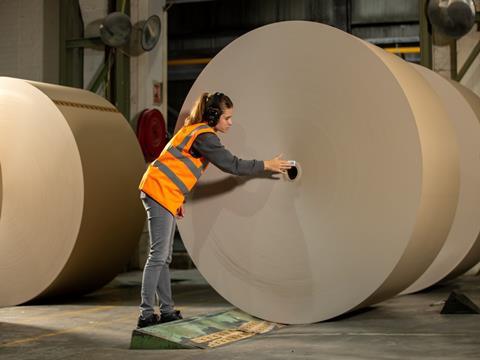 DS Smith has today announced plans to reduce its green house gas (GHG) emissions by 46% by 2030 in a bid to be approved by the Science Based Targets initiative (SBTi) as being in-line with the 1.5oC target set at COP21.
DS Smith says it will accelerate the reduction of carbon emissions across its own operations, as well as the operations of its partners and suppliers, with the 46% reduction figure based on a comparison to the company's 2019 levels.
Investment in next generation solutions, such as biomethane boiler technology and renewable energy sources, both sourced directly and through power purchasing agreements, are some of the methods DS Smith will invest in as it aims to meet its targets. By 2027, it will also encourage all of its strategic suppliers to adopt science-based targets. More detailed plans will be released by DS smith this summer.
Miles Roberts, group chief executive at DS Smith. comments: "Today's announcement demonstrates our ambition in reducing carbon as part of our long-term sustainability focus.
"This commitment not only ensures our business is leading the way in reducing our carbon footprint, but also guarantees we are challenging our suppliers and partners to do the same."
DS Smith has already committed to reaching Net Zero carbon emissions by 2050 and is a member of the UN's Race to Zero initiative. Between 2015 and 20202, the company claims to have achieved a 23% reduction in CO2 emissions per tonne of production.
Andrew Morlet, CEO of the Ellen MacArthur Foundation, adds: "We need a circular economy — one designed to eliminate waste, circulate products and materials, and regenerate nature, to tackle those emissions and achieve the targets set out in the Paris Agreement.
"Today's announcement shows that our Strategic Partner, DS Smith, is committed to ambitious action on both renewables and the circular economy."
Speaking to Packaging Europe last year, Wouter van Tol, head of government, community affairs and sustainability at DS Smith, noted that significant work remained to ensure a 1.5oC limit on global warming after COP26.
"Since the summit ended, there has been ongoing conversation surrounding what the legacy of COP26 will be. For our industry, it has put the spotlight on the changes that companies must make in order to become truly sustainable, and the leadership required to make those changes," van Tol explained. "Collaboration, transparency, and a holistic vision will prepare the industry for the challenges we face right now, as well as what lies ahead."
In recent years, the packaging industry has seen a number of commitments to reduced carbon emissions and net neutrality. For example, in 2020, Tetra Pak committed to reaching net-zero GHG emissions in its own operations by 2030, apparently aligning with the SBTi, while Smurfit Kappa received approval from the SBTi earlier this year, which reportedly means its targets are consistent with the levels required to meet the goals of the Paris Agreement. SIG likewise received SBTi approval in 2020 – apparently making it one of the first in its industry to do so.
Examples of companies which have also committed to net zero emissions by 2030 include Tetra Pak, Heidelberg, while P&G and Coca-Cola European Partners are aiming for 2040, and Avery Dennison and Smurfit Kappa are aiming for 2050. The Mission Possible Partnership (MPP) is working towards ensuring decarbonisation goals are reached by 2050 with initiatives that are attempting to level the playing field between technologies and organisations, building shared infrastructure, and reducing early risks.
Elsewhere, the concept of neutrality has been expanded to other sectors, including plastic, with Iceland setting out plans to be the UK's first 'plastic neutral' supermarket. Using a similar method to carbon offsetting, Iceland will work with Seven Clear Seas to recover and recycle nature-bound waste plastic in an equivalent weight to its 2022 plastic usage.