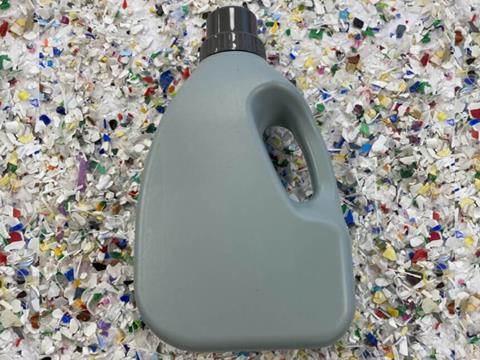 A collaboration between Nopa Nordic, Schela Plast, Aage Vestergaard Larsen, and Dansk Affald has led to the launch of new plastic bottle packaging made from 100% Danish household-sorted plastic waste.
The companies say this is a first-of-its-kind collaboration in Denmark, bringing together leading players from across the recycled plastics value chain with the aim with increasing the use of plastic waste from Danish households and closing the loop on plastic packaging. The most recent development builds on the initiative from the Danish Technological Institute to prevent plastic waste from being downcycled.
The partnership began with a request from Nopa Nordic for packaging with recycled material from domestic Danish household-sorted waste. The company is one of the Nordic region's leading private label manufacturers of detergents, cleaning, and personal care products.
Damifos' role in the project is to collect and sort the plastics from household waste from local municipalities in Denmark. The company intends to prove that valuable products can be made from plastic waste by using sorting technology at Damifo's Danish plant, with the company allegedly handling over 300,000 tonnes of waste from private households and businesses nationwide.
Meanwhile, Aage Vestergaard Larsen is the manufacturer of the plastic raw material. It is currently developing a new reprocessing technology with the aim of cleaning and melting household plastic waste made from PE for use in recycled, high-quality plastics. The company claims that it has invested "significantly" in the project and has seen an increase in its production capacity, which it adds shows an increased demand for recycled plastics.
Schela Plast is responsible for producing the recycled plastic packaging, apparently offering its knowledge of blow moulded packaging made from imported household-sorted plastic waste to the project.
According to the companies, consumer demand for sustainable packaging solutions was also a key driver of the collaboration. The collaborators are expecting the production of local recycled plastics from Denmark to increase over the course of the project.
Recent research suggests that consumers seek convenience when engaging with recycling schemes even as demand for recycled products remains high. Denmark's deposit return scheme (DRS) – an initiative aimed at collecting all materials, including glass, plastic, and aluminium using a variable fee for different containers that can then be returned by consumers – has been hailed as one of the most successful iterations of the scheme so far in Europe, which suggests engagement with household recycling is high in the country.