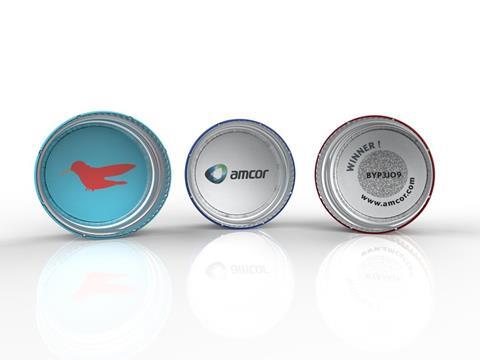 Amcor announced yesterday that it will be rolling out its IMPRESSIONS technology, developed in partnership with MGJ, which uses CNYK colour printing technology to enable brands to customise closure liners for enhanced engagement with consumers.
According to Amcor, the technology was developed to meet the demand from brands to connect more directly with consumers through digital experiences, which the company says has grown during the COVID-19 pandemic.
IMPRESSIONS allows Amcor's customers to print alphanumeric or QR codes and logos on a closure liner, which end-consumers can then scan to gain further access to brand websites, exclusive information, competitions, and promotions. In addition, the technology can reportedly direct consumers to information about packaging recyclability.
The company adds that the printed liner is only accessible when a consumer has already purchased and opened the product. As such, the technology apparently also acts as a traceability and authentication tool.
The IMPRESSIONS technology is compatible with Saranex and tin liners, as well as Amcor's STELVIN closures for wine and STELCAP aluminium closures for spirits.
Catherine Fontinha, head of marketing at Amcor Capsules, comments: "This simple addition of printing under a bottle cap, not only enhances the customer experience but can also pique curiosity and willingness to engage with companies outside of the ordinary buyers journey.
"For our customers, brand reputation is also of upmost importance. This is why IMPRESSIONS is not just for users, but for vendors too."
In August, Amcor expanded its lid innovation portfolio with a proprietary healthcare lidding technology that can withstand heat sterilization and offers product preservation for products consisting of two or more regulated components, which makes it suitable for active pharmaceutical applications.
IMPRESSIONS will be available in Europe, North America, and South America from November 15th, 2021.