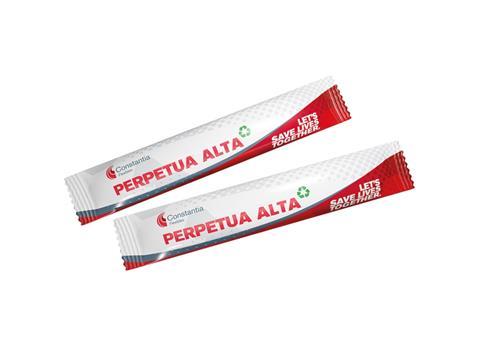 Constantia Flexibles has launched what it claims is a recycle-ready, mono-material polypropylene (PP) laminate with high chemical resistance for pharmaceutical applications.
According to Constantia Flexibles, traditional multilayer packaging for pharmaceutical products is not recyclable as it usually contains a combination of different materials. The company adds that while alternatives like recyclable mono-polyethylene or mono-polypropylene laminates fulfil the recyclability factor, these do not provide the required performance with respect to chemical resistance.
Constantia Flexibles says its new mono-polymer solution, PERPETUA ALTA, replaces the multi-material packaging for chemically aggressive products such as pharmaceutical liquid and hydro-alcoholic gel compositions while following "Design for Recycling" guidelines. The solution can reportedly withstand challenging pharmaceutical applications with a similar performance to aluminium-containing multi-material laminates compliant with HCR requirements.
In addition, the company claims that PERPETUA ALTA offers optimal product protection from oxygen, water vapour, and light at a reduced weight and increased yield. According to the company, cyclos-HTP has confirmed that the solution offers a material recovery rate of up to 96% depending on the final material configuration.
PERPETUA ATLA is apparently a drop-in solution for existing packaging formats based on laminates like stick packs, sachets, and strip packs. The company notes that packaging machines do not have to be replaced and existing equipment can be used with the new solution.
Joerg Adrian, vice president of technical organization and innovation pharma at Constantia Flexibles, comments: "We highlight the need for more sustainable packaging in the pharmaceutical packaging business with our innovation PERPETUA ALTA.
"It was our goal to achieve a high-performance ready-to-be-recycled solution. Although designed for highly aggressive pharma products, PERPETUA ALTA may also find applications in other market segments requiring high chemical resistance, e.g., food applications."
Roberto Martin, head of innovation laminates at Constantia Flexibles' plant in Logroño, Spain, adds: "It was a challenge. Our R&D and product management team worked hard to get where we are today: a full polypropylene recyclable solution with high chemical resistance (HCR) towards aggressive filling goods."
Last year, Constantia Flexibles launched Perpetua, a recyclable, high-barrier polymeric mono-material packaging solution for pharmaceutical products that offers protection from oxygen, water vapour, and light.