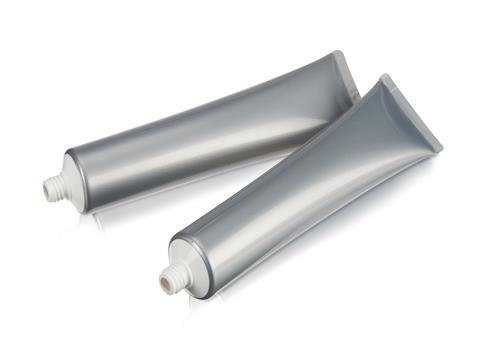 Milliken & Company has collaborated with Huhtamaki Group to develop a mono-material laminate that it expects to coat 40-200ml tubes for personal care products such as toothpaste and cosmetics.
Milliken has reportedly combined its UltraGuard Solutions barrier performance technology with Huhtamaki tube laminates to produce high-density polyethylene tubes, which will be on display at the K 2022 trade fair in Dusseldorf.
UltraGuard Solutions is said to improve the barrier properties of HDPE film by up to 50%, which in turn is thought to allow for downgauging of the polyethylene film. As a result, the company claims that the end product is lighter and contains less resin.
Increasing the use of mono-material is also hoped to increase the recyclability of the packaging, negating the need for metallised layers while also maintaining protection against water vapor and oxygen transmission – features considered to be essential in cosmetics packaging.
Meanwhile, Huhtamaki expects that the new film will contribute towards its blueloop initiative, which aims to use mono-material structures such as paper, PP, and PE to improve the recyclability and circularity of flexible packaging.
"The tube resulting from this joint development work is opaque with a silver shine, making it ideal for beauty product applications," said Dr. Detley Schulz, senior manager of Sustainability and Business Development for Huhtamaki's Global Tube Laminates business. "White would work as well, offering outstanding moisture barrier and improved oxygen transmission for all who don't need a shiny silver option."
Constantia Flexibles' recent acquisition of FFP Packaging Solutions was expected to increase the development of recyclable laminates for flow wraps, lidding films, and pre-made pouches. The company also released its own mono-material PP laminate to be utilized in the pharmaceutical sector.
According to Etma, laminate tube deliveries have decreased by almost 4% at the start of 2022, yet still accounted for 36% of Etma members' deliveries when combined with aluminium tubes.