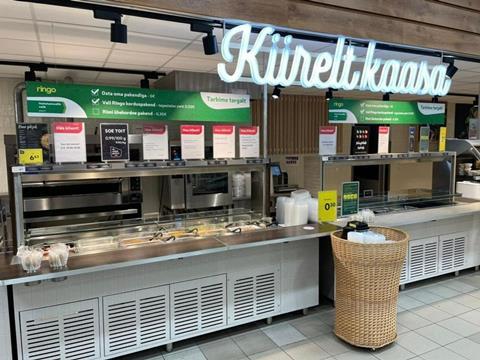 Ringo is working alongside Rimi to pilot reusable packaging in its ready-made food self-service counters at its Põhja, Telliskivi, and Tornimäe stores in a move expected to encourage the use of and increase access to reusable packaging amongst consumers.
Previously, Rimi customers were offered free disposable boxes to use at the food counters, with the additional option of bringing their own packaging to the store. Now a new system will be trialled in which consumers can choose between a 30-cent single-use pack or a 50-cent Ringo pack with a fully returnable deposit.
Consumers can then take the reusable pack back to a return box, where the on-pack QR code can be scanned to save the package to their phone number rather than an app. Once the package has arrived at the Ringo washing centre, the deposit will be returned to the consumer's bank or charity account.
"The pilot will last 6 months, and we chose such stores where we think more environmentally conscious people already visit," said Katrin Bats, PR & CR manager at Rimi. "At first, of course, this is a big change, but today no one doubts the necessity of reuse.
"It's certainly exciting for us to see how many people are still ready to use reusable packaging, but we believe that our customers will also like this kind of pilot."
"Today, draft laws are being prepared throughout the European Union that will gradually increase the share of packaging reuse," continued Janek Maar, project development manager at Ringo. "The normality of the future is to put salad and coffee in a package that is returned like today's deposit bottles and used hundreds of times.
"It is a great pleasure that the Rimi chain of stores has taken the initiative in the Estonian retail trade as a means of reducing disposable packaging waste and is getting used to the new reality early on."
Burger King ran a trial with Loop earlier last year to pilot a new range of reusable and returnable packaging for burgers, sides, and drinks across selected restaurants. To participate, consumers could opt into paying a £1 deposit for a reusable cup or container, then return it by scanning the barcode through the Loop app and placing them in a dedicated Loop bin outside particular Burger King establishments.
Additionally, Confidex's RAIN RFID tags for tracking reusable takeaway food packaging at events – encouraging returns via reverse vending machines and facilitating convenient deposit refunds – were nominated under the Recyclable Packaging category at the Sustainability Awards 2022.