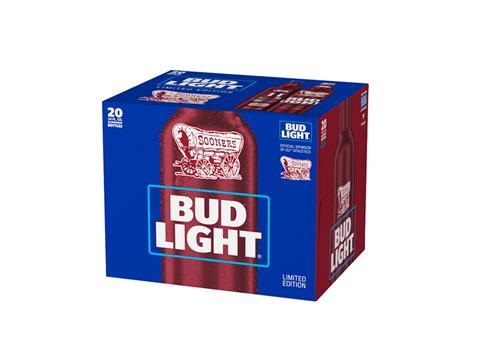 Bud Light has released limited-edition college football team packaging for many teams, including the University of Oklahoma. The new packs feature the school's logo and colours, will be available in stadiums, and can be found everywhere Bud Light is sold.
In addition to gaining an "official craft beer" from a local brewery this season, the University of Oklahoma is also getting a fun nod from Bud Light just in time for college football Saturdays.
The domestic beer giant is sponsoring more than 50 college teams and releasing limited-edition college football team packaging for many teams, including OU.
The cans also feature QR codes that fans can scan for a chance to win a flyover in a private jet at any game of the winner's choice, along with limited edition Fanatics team merch to rep their school this season.
"Saturday is a sacred time for college football fans, one that is centered around all-day tailgate traditions, quality beer, decades-old rivalries and easy enjoyment with friends and family," said Todd Allen, Vice President of Marketing for Bud Light. "This season, Bud Light is extending these fan celebrations over the course of the weekend with new team packaging perfect for gameday sipping, and live events that will get fans in gameday mode right as the weekend kicks off."
OU fans will be treated to Backyard Tour events beginning Nov. 3, as the team travels to Stillwater to take on Oklahoma State University for what is likely to be the last Bedlam showdown for the foreseeable future.
Bud Light has also released University of New Mexico Lobo football-branded beer cans and bottles, as part of a push that includes more than 50 college teams. A QR code gives fans a chance to win a private jet trip to any college football game plus team merchandise
Beer-drinking fans back in New Mexico looking to tip one back to the UNM Lobos on Saturday — whether it be in celebration or to help numb the pain — can now do so with specially branded Bud Light cans and bottles being sold at participating retailers around the state.
UNM Athletics and Hensley Beverage Company, which distributes, among other things, Anheuser-Busch beers, recently entered into a three-year agreement in which the university gets $270,000 a year while still receiving contractually agreed upon cuts of all alcohol sales at sporting events.
Williams noted that Bud Light was the No. 1 selling beer at UNM Lobo sporting events in the 2022-23 sports seasons.
As for the use of UNM Logos on Bud Light bottles, cans and packaging in the region this fall, Hannah Brunsen of Weber Shandwick wrote "on behalf of Bud Light" in an email that the partnership with the Lobos is part of a push that includes "more than 50 college teams" this fall.
Also, there is a special QR code on each UNM can that gives fans — 21 and over, of course — an opportunity to enter for a chance to win a flyover in a private jet at any college football game of the winner's choice and merchandise for their favorite teams from Fanatics.
This article was created in collaboration with AIPIA (the Active and Intelligent Packaging Industry Association). For a full update on active and intelligent packaging, come along to the AIPIA World Congress (co-organized by Packaging Europe) in Amsterdam on 14-15 November. The only smart packaging event covering the entire technology spectrum, the World Congress is a meeting place for the global active and intelligent packaging industry where brand owners, innovators, and other stakeholders can network and see and discuss the latest trends and innovations. Register to attend here.