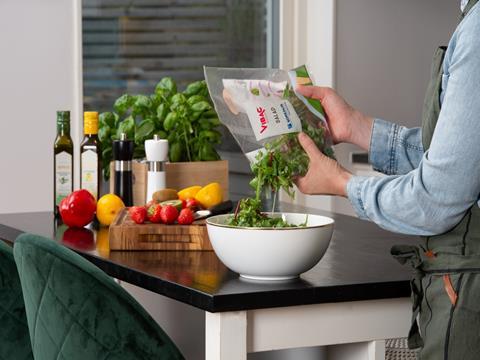 Borealis and the Vibac Group have designed a new BOPP-based film for food packaging, reportedly designed for easy sorting in PP recycling streams.
The 'V-Fresh' film is produced with a grade from Vibac's Bornewables portfolio, which consists of 'circular polyolefins derived entirely from waste and residue streams'. These grades claim to provide the same performance properties as virgin PP while reducing its carbon footprint.
The new packaging is supposedly compatible with mechanical recycling, where it is thought to be 'easily sorted' into PP waste streams, and with existing conversion machinery. It is hoped that, by utilising BOPP, the film will be cost- and resource-efficient, and will extend the shelf life of the food products it contains.
"Together with Vibac, we have been able to develop yet another packaging solution that exemplifies our EverMinds ambition, which is advancing plastics circularity by way of innovation and value chain collaboration," says Peter Voortmans, global commercial director of Consumer Products at Borealis. "Offering high quality and cost-efficient alternatives to fossil-based feedstocks is what we mean by re-inventing essentials for more sustainable living."

Alberto De Paoli, general director at Vibac, adds: "The combination of our BOPP film expertise with the polyolefins and recycling know-how provided by Borealis enables us to satisfy consumer demand for more climate-friendly packaging. At the same time, we can still deliver the safety, freshness, and top-notch organoleptic qualities shoppers have come to expect."
In 2020, Innovia Films launched Encore, its line of recyclable BOPP films; they were said to be produced from renewable, non-food based raw materials, and aimed to reduce the reliance on fossil-based raw materials in packaging manufacturing. Three months later, it announced 'the world's first carbon-neutral BOPP label film', Encore C45n.
More recently, NOVA Chemicals sought to replace BOPP and BOPET with a new HDPE resin technology for machine direction orientated and biaxially orientated films, thought to allow recyclable, all-PE packaging to be produced.