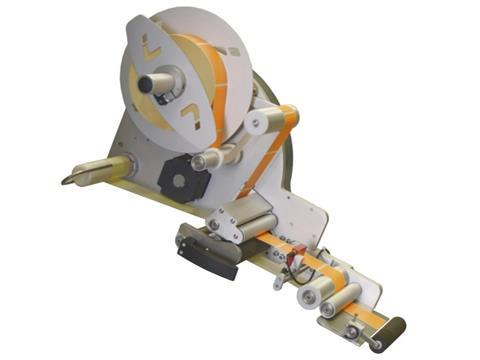 AM Labels has expanded its portfolio with the LabelPack Label X JR, a programmable, wipe-on label applicator for a variety of medium-volume box, carton, and tray applications in such industries as food and beverages, pharmaceuticals, and cosmetics.
The applicator can apparently operate at conveyor speeds of up to 30 metres per minute; it is designed to accommodate labels with a maximum width of 140 mm and lengths of up to 350 mm, as well as label rolls with a diameter of up to 300 mm. A version of the machine with a maximum label width of 250 mm is also available for larger labels.
The LabelPack Label X JR can also store parameters for up to 40 different applications, according to AM Labels. Factors such as label length, conveyor speed, and the position of the label on a product can be determined through the digital control unit; the solution also offers automatic label recovery, a liner break alarm, a warning beacon, and end-of-reel detection, all of which seek to improve the accuracy and efficiency of the labelling process.
Variations of the Label X JR are available, including a right-hand or left-hand labelling model to suit conveyors travelling in different directions and the required positioning of the applicator in relation to the conveyor. AM Labels provides optional, heavy-duty floor stands and an adjustable stand, both of which are designed to be used with the applicator in either top loading or side labelling scenarios.
A product sensor is also said to automatically detect the position of the product on the conveyor and can be adjusted for packaging of different shapes and sizes. The delay between detecting the product and dispensing the label can also be programmed to ensure the label is applied in the right place.
"We are delighted to be expanding our label applicator offering with the addition of the LabelPack Label X JR," says Brendon Bass, sales and marketing manager at AM Labels. "We exhibited this model at Packaging Innovations in February 2023 and it was extremely popular amongst visitors at the show. The Label X JR provides an excellent solution to the accurate application of labels onto a range of packaging types, boosting operational efficiency for businesses and significantly reducing set-up times."
BOBST has recently expanded its All-in-One, All-Inline portfolio with the new DIGITAL MASTER series, which is expected to provide a fully digitalised and automated production line for label applications.
Additionally, Clearmark's new Overprinting Watchstrap Labeller has been designed to apply watchstrap labels to net and weave packaging applications without damaging the bands.
The Sidel Group has also acquired Makro Labelling to develop new labelling technologies – a move hoped to expand the companies' collective reach in key market segments and facilitate international development for Makro Labelling Srl.