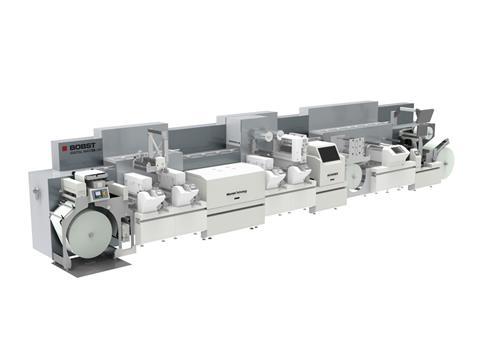 BOBST has announced an addition to its All-in-One, All-Inline portfolio with the new DIGITAL MASTER series for a fully digitalised and automated production line for label applications.
The new line will feature DIGITAL MASTER 340 and DIGITAL MASTER 510, which BOBST says are based on a fully modular and upgradable architecture. The company adds that this enables customers to configure the exact machine they need, integrating all modules available in inline flexo, and providing the possibility to be upgraded on-site at a later stage.
The DIGITAL MASTER series will be available in 340mm (13.5 inches) and 510mm (20 inches) print widths with a new design that has reportedly been optimised for full modularity and improved operation and servicing. BOBST explains that the series offers printing, embellishment, and cutting in a single pass, with native integration between the UV inkjet digital engine and the flexo and converting modules.
According to BOBST, the DIGITAL MASTER 510 provides higher production volume while still only needing one operator to run the press. The introduction of a 510mm version apparently adds new opportunities to expand application versatility into larger-sized labels, industrial and chemical markets, wraparound, shrink sleeves, and other special applications.
In addition, BOBST says the DIGITAL MASTER series can run at up to 100 m/min (328 ft/min) in four or six colours plus optional digital white. The company adds that flexo modules can be included for priming demanding substrates, high-ink coverage jobs for long print runs to save on digital ink, applications with high white coverage, or for printing Pantone colours.
Embellishments available with the new DIGITAL MASTER series include varnishing, tactile and holographic effects, cold foil glue applied, UV lamination, and security printing. BOBST notes that, for end-to-end label production, fully automated semi-rotary die-cutting or rotary die-cutting is ready for integration.
Each print, embellishment, and finishing module is digitally automated for high uptime, low waste, and repeatability regardless of the operator's skill, according to BOBST. The inclusion of BOBST ACCUCHECK helps to boost quality control with 100% inline inspection at full speed, checking registration, quality, and colour consistency of digital and flexo print and all embellishments.
BOST claims that the 1000 mm (39 inches) jumbo unwinders and rewinders with an automated roll-lifting system included in the DIGITAL MASTER line can reduce the number of roll changes, saving time and effort.
Meanwhile, the company says that its maintenance automation device on the Digital Printing Unit is included for all machines. A single user-friendly interface controls the whole machine, which can be connected to the Cloud and is open for MIS integration.
Patrick Graber, strategic marketing manager at BOBST, comments: "Developments in label production are moving at pace with brand owners looking for converters that have the ability to deliver faster, better and at more competitive prices.
"In this context, the BOBST All-in-One platform is a great answer as digitally printed labels can be produced in high quality, with exceptional productivity and at lower costs, from short to long runs.
"With the DIGITAL MASTER series, we want to solve our customers' challenges as they try to overcome the lack of skilled workforce while moving to industrial productivity and longer run lengths with digital equipment; and to bring more agility and flexibility to the production floor."
"The DIGITAL MASTER series is an extremely future-proof solution because customers can adapt the machine over time to changing application needs and new market trends. And when new technologies for these platforms are released, they can be retrofitted on site, adding even more value and protecting the investment.
"The DIGITAL MASTER series leverages the principle of ONE: ONE press for all label jobs, ONE workflow unifying all the elements, ONE operator running the press, ONE supplier developing all the technologies and ONE point of service for both conventional and digital parts."
The DIGITAL MASTER series presses are developed, manufactured, installed, and maintained by BOBST. The company will introduce the new DIGITAL MASTER series during two upcoming webinars next month.