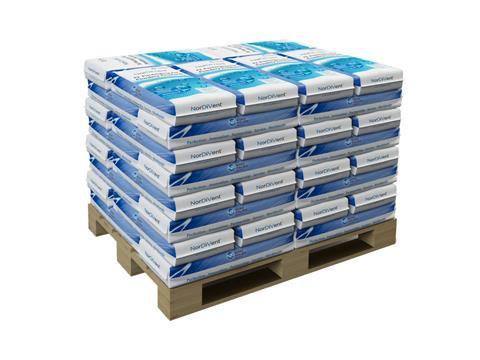 Berry bpi packaging solutions announces that it has incorporated up to 50% recycled content into its NorDiVent form, fill and seal (FFS) film, reportedly without any compromise in overall strength and moisture protection performance.
According to Berry, the FFS film can now be manufactured using the company's Sustane recycled polymer, which it says is produced from a combination of post-industrial and post-consumer recycled plastic to produce a material comparable to virgin polymers. The company adds that Sustane is produced in accordance with circular economy principles.
Berry claims that the addition of the recycled polymer has been achieved while maintaining NorDiVent's key properties. For example, the film is apparently waterproof and lets out air in a dust-free manner, offering moisture protection for products that need to be kept dry even when stored outside.
In addition, the company says that NorDiVent has a high tear resistance to provide further product protection and avoid spillages and product waste – again, this property is reportedly maintained with the addition of the recycled polymer.
Customers can choose different options to suit specific product needs and applications, including anti-static. The film can also be printed in up to 10 colours, which can offer companies impactful branding and allegedly maximise on-shelf presence.
Frank Heseding, business development manager at Berry bpi packaging solutions, comments: "Effective product protection which helps to minimise unnecessary waste and lightweight packaging that reduces the impact of transportation are in themselves important sustainability benefits.
"But the incorporation of recycled content with no performance disadvantage is another significant achievement in our continuing drive to develop solutions that support our customers' sustainability goals."
Last year, Berry bpi expanded its NorDiVent range with an easy split feature for packaging for products such as concrete and cement, which provides end-user convenience while reducing product waste and maintaining its moisture barrier.