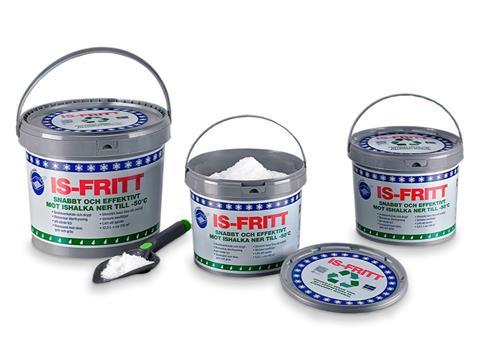 Berry Global is collaborating with Everbrand to implement 50% post-consumer recycled plastic into the container used to package its IS-FRITT de-icing products.
The SuperLift container is part of the Berry Superfos PCR range, which is said to offer a variety of containers in various shapes and sizes with a standard of 50% post-consumer recycled material. Each solution is made from mono-polypropylene, thought to ensure its recyclability and circularity alongside light weight, easy handling, and consumer convenience.
Everbrand is retaining the existing SuperLift container but including 50% post-consumer recycled material into its manufacture, adopting the solution in pursuit of a more sustainable packaging solution for the IS-FRITT brand. The colour of the container has switched from white to grey in a bid to increase its recognisability on the shelves.
IS-FRITT products themselves are also reported to be free of additives that can harm living creatures or the environment.
"An obvious next step in our sustainability strategy was to change the material composition of the containers we use for IS-FRITT," said Alexander Axelsson, CEO of Everbrand. "Our goal was to reduce the use of virgin plastic for packaging and to use recycled material instead while also ensuring that our containers can be recycled again after they have been used.
"We have always been very satisfied with the SuperLift container and were quite relieved that Berry Superfos was able to deliver it with recycled plastic content. It fully meets our other demands as well: it is eye-catching, has high quality, is sturdy and stackable."
TotalEnergies and Ecolab have announced their own plastic packaging solution containing post-consumer recycled content for heavy-use applications.
Meanwhile, Evertis recently achieved Retray certification from the Ecosense Foundation for its multilayer and monolayer food-contact PET films, which verifies their recycled content, traceability, and the management of their plastic waste.
UBQ Materials' co-founder and co-CEO Jack Bigio also spoke to Packaging Europe about rising fears amongst the packaging industry surrounding the European Commission's deadline of implementing at least 30% recycled material into all packaging by 2030 and suggests ways of navigating this expectation.