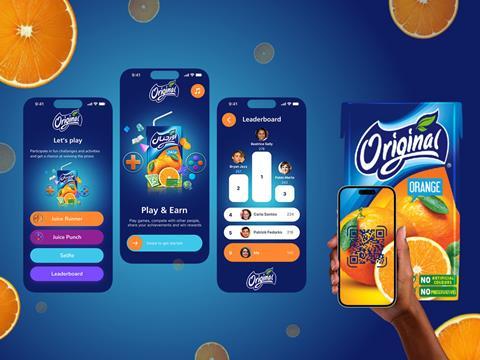 A leading producer of juice and beverages, Gulf Union Foods Co, has partnered with creative technology studio and AIPIA member Appetite Creative to create a fun and interactive connected packaging experience for its Original juice brand; to give young people a boost at the start of the school year with its fruit juice carton packs, it says.
The smart packaging campaign utilises a web app-based connected experience accessed via QR codes looking to help consumers see Gulf Union's products as a vital part of their back-to-school preparations. The creative agency worked side-by-side with the Riyadh-based agency ABILITY, which managed the media, communication strategies, and execution of the campaign.
Users can play two juice-themed games designed to entertain and educate by scanning the QR codes across the full range of Original and Zero carton packs. Juice Punch includes IQ-based challenges where they must organise drinking glasses to contain only one colour. Juice Run tests player speed and attention as they navigate through various obstacles and challenges collecting juices of the same colour.
The experience also offers shareable selfies where users can adorn themselves with a fruity tiara or turn themselves into a mango. The games have a leaderboard ranking players to foster friendly competition. The connected packaging campaign runs across the full range of 125ml, 200ml and 250ml carton packs.
"We're pleased with this great interactive experience symbolising the energetic boost Gulf Union's juices offered. We wanted to create a memorable and exciting experience for our younger consumers kicking off their studies with high energy and enthusiasm," said Imad Assi, head of marketing at Gulf Union Foods.
"Back-to-school offers Gulf Union a great moment to connect with customers of all ages. We're seeing brilliant results from tailoring and adapting connected experiences for different times of the year – it's a great way to ensure connected packaging stays relevant and encourages customers to keep coming back for more," said Jenny Stanley, managing director at Appetite Creative. Jenny will be speaking at the upcoming AIPIA World Congress.
"This interactive experience was a great opportunity for the brand to increase its awareness level in the market, while also creating a new experience for both the shoppers and the consumers," said Elias El Asmar, account director at ABILITY.
The web app tracks real-time interaction, such as buying habits, product preferences, average engagement time, location, scan rate, number of visitors, return visitors, and social media shares, including GDPR-compliant personal data to enable the brand to optimise its marketing and better understand consumers.
This article was created in collaboration with AIPIA (the Active and Intelligent Packaging Industry Association). For a full update on active and intelligent packaging, come along to the AIPIA World Congress (co-organized by Packaging Europe) in Amsterdam on 14-15 November. The only smart packaging event covering the entire technology spectrum, the World Congress is a meeting place for the global active and intelligent packaging industry where brand owners, innovators, and other stakeholders can network and see and discuss the latest trends and innovations. Register to attend here.