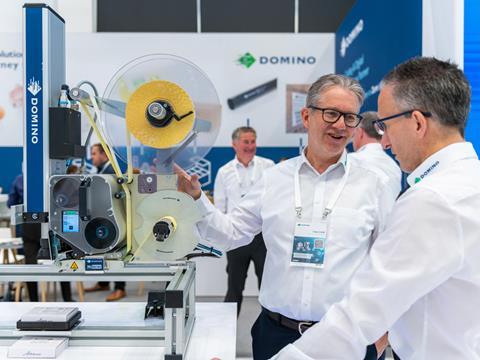 Print, coding and marking specialist Domino Printing Sciences, an AIPIA member, says it is making a big push into digital transformation – both internally and externally. This includes the Oracle Cloud project and scannable 2D/QR codes which are crucial for e-commerce platforms and supply chain systems, it believes. Come to the AIPIA Congress to meet Domino and learn more.
While its top sectors remain food, beverages, pharmaceuticals and life sciences, Carl Haycock, UK printer operations director, says the business is focusing more on the provision of high-quality, variable data printing technology, and how this supports digital transformation in all sectors.
"Variable data printing supports digital transformation for our customers by allowing them to provide more data in a scannable 2D code such as a QR code – to facilitate data sharing up and down the supply chain. For our customers, it's important that our products can do this reliably at any point in the production process."
One of Domino's key strategic aims will be to provide customers with closed-loop solutions that manage the product coding, and help to minimise errors, waste, and downtime: "This includes data management and deployment from our coding automation solutions, machine monitoring with Domino Cloud, and code verification from our vision offering. These can be provided as part of an integrated solution to ensure the customer that products are of high quality and minimise production downtime."
The company says it is now supplying most of its spares and consumables with GS1 Digital Link compliant QR. Haycock said the inclusion of scannable 2D codes can enable 'easy booking' into warehouse systems, and facilitate additional value opportunities in the future, such as allowing customers instant access to information or services.
"We also have some new technologies focused specifically on high-resolution variable data printing, including the K300 – a new, high-speed monochrome solution. The K300 technology can be made available to suit a multitude of different coding needs, including printing on bottle caps to support the move towards recyclable, no-label PET bottles."
Domino is currently working with several leading beverage brands to develop bespoke digital printing solutions, using Domino's K300 digital printers, for in-line (pre- and post-fill), and near-line printing directly on bottle caps, with 2D codes to provide access to information that would traditionally have been included on the label.
Digital transformation is key to all manufacturers to drive better customer experience and drive productivity. "The importance of 2D codes, for manufacturers in all industries, cannot be overstated. We see the introduction of 2D codes, and particular the GS1 Digital Link as being revolutionary to the way data is shared all stages of the supply chain," Haycock added
This article was created in collaboration with AIPIA (the Active and Intelligent Packaging Industry Association). For a full update on active and intelligent packaging, come along to the AIPIA World Congress (co-organized by Packaging Europe) in Amsterdam on 14-15 November. The only smart packaging event covering the entire technology spectrum, the World Congress is a meeting place for the global active and intelligent packaging industry where brand owners, innovators, and other stakeholders can network and see and discuss the latest trends and innovations. Register to attend here.