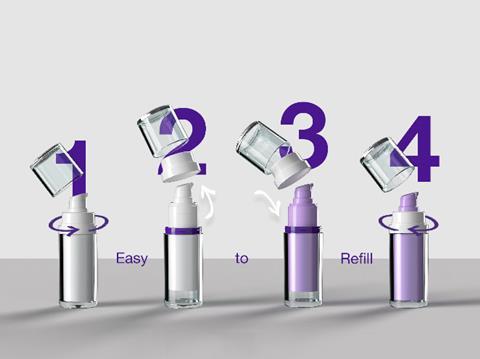 International beauty packaging manufacturer and provider Quadpack has launched a refillable version of its best-selling range of airless dispensers.
Regula Airless has incorporated a new format that features a refillable mechanism that the company says allows easy removal and insertion of a new refill.
The QLine innovation is a snap-on ring that allows brands and fillers to insert a removable inner component in the pack after filling through a system that protects the formula.
Its design encourages consumers to reuse the product since the inner part can be easily disassembled through a thread system. In order to boost recyclability, Regula Airless Refill has a metal-free pump.
The pack has the same size as Regula Airless, in the hopes of allowing customers to adopt the refill version easily. The solution is available in 15ml, 30ml and 50 ml versions and is made in Europe.
Quadpack says that the new launch is an example of its 'positive-impact packaging' strategy, through which it aims to continuously improve the sustainability of its product portfolio. Quadpack's ultimate goal is to become a leader in airless packaging globally by relying on its manufacturing capabilities and strategic collaborations.