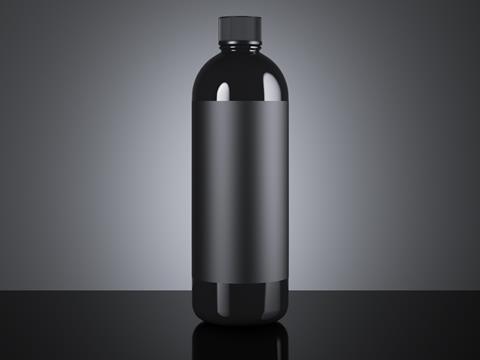 Ampacet and Pellenc ST are collaborating on REC-NIR-BLACK, a brand of alternative black masterbatch solutions said to allow PET packaging in dark colours to be recycled on existing recycling lines without compromising current sorting technology.
When mixed plastic waste is sorted into separate mono-material streams at material recovery facilities, near-infrared technology is used to identify the resin types in each product. However, the most common black pigment, carbon black, is not compatible with near-infrared, meaning that dark-coloured packaging cannot be identified or separated by its resin fingerprint. Instead, it is sent to landfill.
Ampacet's REC-NIR-BLACK is supposedly near-infrared transparent, meaning that the technology can identify black or dark packaging in the waste stream.
Pellenc ST has performed successful tests on black bottles containing REC-NIR-BLACK in the past, facilitated by COTREP's sorting protocol for polyolefin packaging. Yet current tests are tackling the issue of visible optical sensors in PET recyclers, specifically the ability of visible domain spectrometers to sort by colour; dark packaging can be similar in colour to the conveyor belt below it, and as such, it can end up in transparent waste streams by mistake.
In order to adjust the algorithm and sort the waste appropriately, Pellenc ST has implemented the new optical sorter Mistral+ CONNECT, tested alongside previous versions of its sorting loop to send dark packaging to the mixed colour waste stream. This would allow clear r-PET, which is generally closer to virgin plastic, to be turned into food-safe products, while dark PET can be recycled appropriately.
In relation to dark packaging, Ampacet recently introduced its SunChill colour masterbatches, exhibiting lower infrared wavelength absorption in black plastics exposed to the sun and preventing the build-up of heat.
Pellenc ST ran the final validation tests in the semi-industrial trials of HolyGrail 2.0, resulting in a 99% detection rate and the opportunity to develop new recycling technologies.