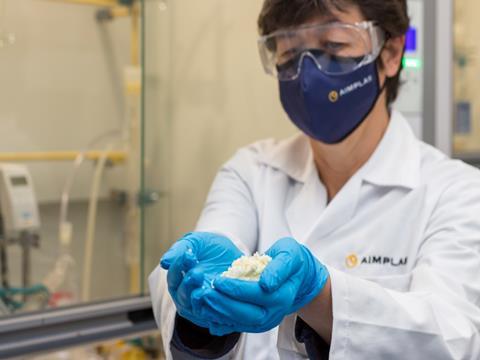 AIMPLAS is working on the NEOREC Project, which is funded by the Valencian Innovation Agency (AVI) and ERDF, to obtain recycled plastics from the mechanical and chemical recycling of complex waste such as tyres, old mattresses, and wires that would otherwise likely be sent to landfill.
According to AIMPLAS, the polyurethane foam found in automotive parts, mattresses, and wire waste is considered difficult to recycle and mostly placed in landfill. Therefore, the NEOREC Project is aiming to develop mechanical and chemical recycling solutions to obtain industrial materials and substances from this complex waste.
The chemical recycling processes being studied include anaerobic degradation. AIMPLAS explains that this involves isolating and selecting microorganisms that anaerobically biodegrade biopolymers faster than conventional organisms with the goal of establishing a more efficient recycling process.
In addition, the project is also exploring a partial chain-breaking process to obtain plastics with the same initial specifications as the original material before its end-of-life.
Eva Verdejo, chemical recycling group leader and researcher at AIMPLAS, says the goal of the project is "to reduce the consumption of resources by reintroducing high value-added materials back into the value chain and generating products and by-products that can be used in the plastics industry, thus minimizing the environmental impact of waste accumulation".
To encompass the whole plastics industry value chain, AIMPLAS is collaborating with raw material manufacturers, converters, waste managers, and recyclers on the project, including Girsa, Acteco, Ube, Omar Coatings, Permarsa, Eslava Plásticos, and PET & Cia.
Another project from AIMPLAS, also funded by the Valencian Innovation Agency, intends to develop biodegradable packaging for guacamole using avocado skin and seeds, with the intention of creating an oxygen barrier film that extends the product's shelf life by 15%. AIMPLAS also coordinated the DAFIA Project for recovering municipal solid waste and raw marine materials from the fishing industry in order to obtain new, high-value-added products and additives such as barrier packaging and edible coatings.