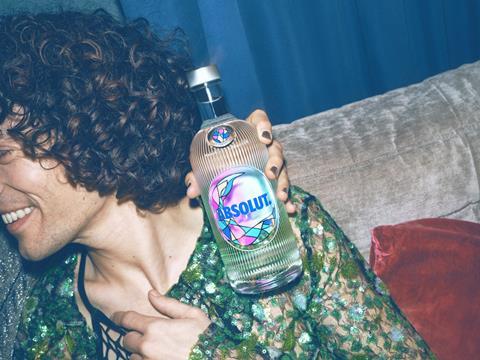 Absolut is launching a limited-edition bottle, Absolut Mosaik, designed by British singer, songwriter, actor and social activist for inclusivity, Olly Alexander.
The mosaic design – where every piece is unique but together creates something of beauty – aims to symbolise the blending together of people from diverse reaches of society to push boundaries and drive positive change; the brand values at the core of Absolut's Born to Mix campaigns.
Alexander, widely viewed as being at the forefront of discussions affecting the LGBTQIA+ community and mental health, has redesigned Absolut's iconic glass bottle, aiming to bring to life what 'Born to Mix' means to him. The mosaic design with blue and pink hues aims to represent diversity.
He comments: "As humans we are so multifaceted, I wanted my design with Absolut to nod to our individuality but also reflect our diverse human nature. I thought a mosaic was a nice way to illustrate how we are all unique but when we mix together, we have the power to create something beautiful."
Deb Dasgupta, Global Vice President Marketing, Absolut Vodka, comments, "Absolut Mosaik, as part of the Born to Mix brand values, is our latest launch that represents Absolut's ongoing commitment to celebrating the power of diversity. Deeply embedded in Absolut's DNA, it's our invitation for everyone to make positive change by creating connections beyond differences. The vibrant, colourful bottle designed by the formidable Olly Alexander is the perfect embodiment of this, and how we're all part of a greater whole in society."
Absolut's iconic bottle has been interpreted hundreds of times by artists and culture markers and Absolut Mosaik is the latest in this tradition. The launch will be supported with both above-the-line and below-the-line activations, social and PR. Close to 4 million bottles will be available of the new limited-edition Absolut Mosaik in 700ml, 750ml and 1L formats from all major grocers and wholesalers in almost 50 markets.
If you liked this article, you might also enjoy:
The L'Oréal approach to packaging sustainability
What steps is Apple taking to make its packaging more sustainable?
How did Brazil achieve its 100% aluminium can recycling rate – and can it be replicated in the EU?
Experts have their say on the EU's Packaging and Packaging Waste Directive revisions