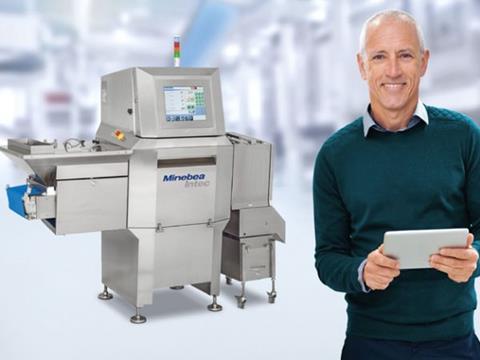 Minebea Intec continues to expand its foreign body detection product range with the introduction of the new X-ray inspection system Dymond Bulk.
The supplier of industrial weighing and inspection technologies developed this innovative system specifically with bulk goods in mind. The X-ray inspection device is particularly suitable for processes between incoming goods and packaging lines in the food industry.
Dymond Bulk reliably inspects bulk goods like nuts, smaller fruits, frozen vegetables, and also spices, coffee and seeds, and eliminates any foreign bodies it identifies. The X-ray inspection system not only identifies foreign bodies made from metal, plastic and stone, but also bits of dirt and glass, which has obvious benefits for all goods that are introduced into the production process "straight from the field". "In food production, the 'sorting and cleaning' stage for raw materials is by no means a precise science" explains Global Product Manager Inspection Michael Zabawski from Minebea Intec. "The X-ray inspection system Dymond Bulk can make a significant difference here, increasing safety and quality parameters even before the refinement process."
Dymond Bulk stands out because it is so user friendly. A conscious effort has been made to simplify the complex technology for the user: from real-time detection via colour-based contamination analysis, through to straightforward belt replacement and an easy-to-clean inspection system.
More info: