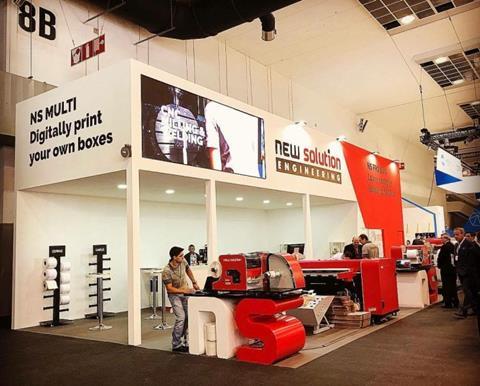 Following its BETA outing at Print 17 in Chicago, New Solution is launching the brand new Atom - a compact label printer, industrially built and designed for the short run digital label market.
Solid steel construction, made in Europe, the Atom is a high-speed label printer that can print onto either roll-to-roll self-adhesive labels or pre-cut labels. Print resolutions of up to 1600dpi x 800 dpi at a speed of 18 meters per minute (12" per second) or 1600 dpi x 1600 dpi at 9 meters per minute (6" per second) make the Atom a fast, productive and high quality printer.
"One of the major benefits of the Atom, apart from its speed and high quality resolution, is that the maintenance station is above the print web - therefore there is no need to cut and splice the web in order to carry out standard print head maintenance," says Samuel Correia, technical manager, New Solution.
Features:
• Operator changeable head
• Wide colour gamut
• Lower cost, scratch resistant Niagara inks
• Solid Steel Construction
• Up to 1800 x 1800 dpi
• Up to 18 meters per minute
NS Pro EVO & NSF 22 - NEW Niagara Ink
New Solution will also be launching the second generation printer NS Pro EVO, with new Memjet Niagara inks. The Niagara water-based dye inks give the NS Pro EVO a wider colour gamut, extended head life, better durability and lower cost, therefore offering a lower print cost per label.
Marco Apolinaro, VP Sales comments, "We are delighted to launch the second generation NS Pro at Label Expo 17, and we are pleased to announce we have an attractive upgrade path for existing users. The NS Pro EVO will deliver lower cost labels with a lower cost of overall ownership with the highest quality on the market. Coupled with our range of medias from our sister brand DECAL, which have been specifically designed for the NS printers, we are confident there is no better combination on the market today for quality, speed and cost."
DECAL pre-coated label media
Also launching at the show is a next generation range of pre-coated label media by DECAL. DECAL is renowned for its green credentials, are solvent free and its products are FDA and ISEGA certified for food and human contact. Its UV Adhesive is resistant to heat and humidity and offers excellent aging resistance and performance.
Caldera now available for all New Solution label and packaging printers
New Solution has been working very closely with RIP company Caldera to achieve a consistency of colour across the printer range for both the ATOM and the PRO Evo, therefore offering a complete solution in terms of printer, RIP and media.
"As a manufacturer of high quality print solutions we felt it was important to look at the output from a holistic point of view," says Eloi Ferriera, CEO New Solution Engineering, "and so in time for Label Expo we are delighted to bring to market a complete solution for digital print - including printer, media and ink - all manufactured within our group of companies. This offers a guarantee of the consistency and professional output to our customers that they and their brands require in today's digital world."
Find New Solution in Hall 8, stand C40.