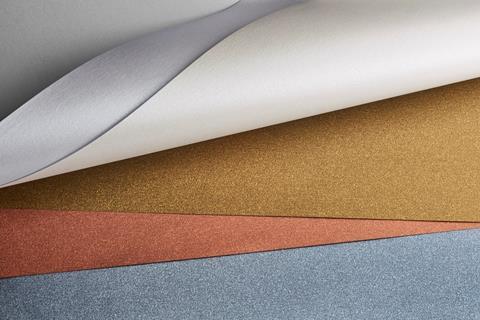 From the tropical seas to the celestial bodies, the Paper Experience provided by Gruppo Cordenons has no boundaries. After the launch of REEF, the latest arrival in the paper producer's portfolio – as its name suggests – is inspired by the starry sky.
After its debut at the last edition of Luxe Pack, it was displayed at PCD, Paris Porte de Versailles, 31st January and 1st February, (stand F14). Thanks to special mica powders, STARDREAM 2.0 stands out in the panorama of pearlescent papers for its unique shiny and changing effects. As part of the evolution of the well-known STARDREAM brand, version 2.0 is brighter and offers greater thickness, giving personality and consistency to the printed projects.
"Aware of customer needs, we have incorporated into STARDREAM 2.0 two currently dominant trends." says Katia Tedeschi, Marketing Director of Gruppo Cordenons. "On the one hand, our new creative paper meets the demand for a glamorous and sparkling aesthetic, which is also confirmed by fashion trends. On the other hand, it responds to growing demands from brands and creative agencies for eco-sustainable materials, as it is produced with 40% post-consumer fibres".
Stylish and shimmering, STARDREAM 2.0 is ideal for the production of a variety of applications such as packaging, shopper, catalogues, covers, greeting cards and all those jobs that require an elegant and impressive paper. In line with the STARDREAM 2.0 concept, the new colours also refer to a space trip: the icy white ERIS, the white/blue reflections typical of PLUTO and changing black/blue of NEPTUNE. Even warm colours orbit in our galaxy with the elegant bronze of SATURN and the precious gold of VENUS. Part of the Pearl&Dream family, STARDREAM 2.0 is available in 110 gsm (one-side coated), 200 gsm and 340 gsm (both two-side coated).
Inspired by the world of pop and rock music stars, the visual book dedicated to STARDREAM 2.0 presents the different colours and grammages of the paper in combination with sophisticated special print effects such as silk screen printing varnishes, laser micro perforation, hot foil stamping and thermal relief. Special finishes, which are designed to show its versatility in terms of printability and to inspire graphic designers, agencies and creative departments of luxury brands.
More info: