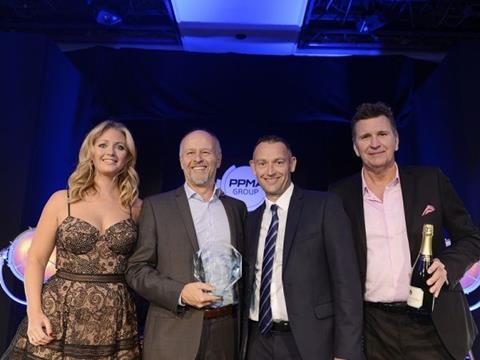 Ishida Europe's unique marination system for protein products, Orbicote, has been named Innovative Processing System of the Year at the 2017 PPMA Awards.
Held annually, the awards celebrate best in class throughout the processing and packing machinery industry, recognising the finest examples of innovation, smart manufacturing, entrepreneurship and collaboration across all facets of the sector.
The new Orbicote has been specifically designed to avoid the mess and waste traditionally associated with the marination process, delivering marinated products, such as meat, poultry and fish, more efficiently and consistently than before.
The system combines Ishida's proven multihead weighing technology with a specially-designed series of 12 mini-drums, six mounted on each of two interlocking wheels. Weighing takes place before marination and each accurately-weighed portion is then channelled into an individual mini-drum where it is tumbled with a set dose of marinade. This ensures that product is thoroughly coated before the contents are cleanly dispatched into the packing system.
The mini-drums are positioned closely together in an orbital arrangement, which is carefully synchronised with the weigher and packing system. This offers speeds of around 55 packs per minute for a typical application such as marinated chicken pieces.
Weighing products before marination avoids the waste associated with marinating bulk amounts in large drums and then weighing them 'wet', where the marinade adheres to the weighing equipment. To change form one marinate to another including cleaning takes around 10 minutes.
Ishida says independent tests have confirmed that the Orbicote achieves around 95% surface coverage, while short drop distances and the gentle tumbling process help avoid mechanical damage to products.
"We believe Orbicote represents a step change in the automated marinating process, minimising the problems of waste and mess to deliver valuable cost savings and increased production flexibility," comments Ulrich Nielsen, Sales Director , Business Solutions of Ishida Europe.
"We are delighted that this innovation has been recognised by such a prestigious award."
More info: