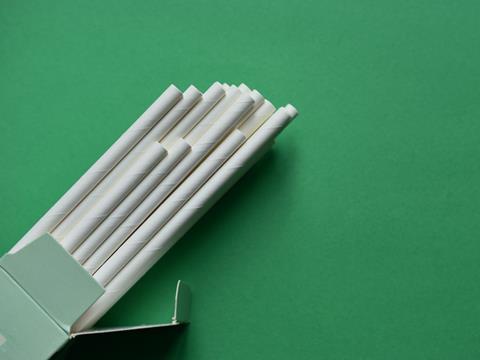 EU industry association 360° Foodservice has brought together straw producers and companies from across the paper straw supply chain to found a new charter of trust for compliance standards relating to all aspects of paper straw production.
Already with 14 signatories from across the supply chain including straw manufacturers and suppliers of adhesives, paper, machinery and inks, the group has formed in response to the rapidly rising number of paper straws being used across Europe, and the need for the marketplace to have a simple way to procure straws that are in compliance with applicable EU and UK standards.
As such, all businesses signed up to the charter of trust for paper drinking straws will have to meet the regulatory standards set in Europe by the EU and national governments. This is applicable for all components of the paper straw, from paper to adhesives and inks.
The group argues that, as the paper straw has grown in prominence, it is clear that small and middle-sized businesses do not always have the capacity to make informed decisions about the quality of the paper drinking straws they are buying.
Similarly, the group says that national authorities often lack the resources to check the compliance of imports and of products already circulating in the market. This is what led to the creation of the Charter of Trust, which will be reinforced with the launch of a registered trust mark for compliant products and brands later this year.
Lorenzo Angelucci, CEO of Transcend Packaging, said: "By launching the quality charter, we have brought together the key parts of the supply chain to ensure that all relevant elements are in regulatory compliance and that major brands understand the importance of this programme when making procurement decisions."
Anna-Michelle Asimakopoulou, MEP, congratulated the group for creating the Charter of Trust: "This shows initiative, it shows dedication to high quality and it shows, above all, respect for the European consumer. We need all of these things in Europe today."
Asimakopoulou is a Greek member of the European Parliament and vice-chair of its influential International Trade Committee. She added: "I am most impressed by the way you, as a European industry, have responded constructively to the Single Use Plastics Directive ban [on plastics drinking straws], innovating your product lines and adapting your manufacturing facilities. This has required great efforts and significant investment in a very short timeframe. Thank you for this and for becoming European leaders."