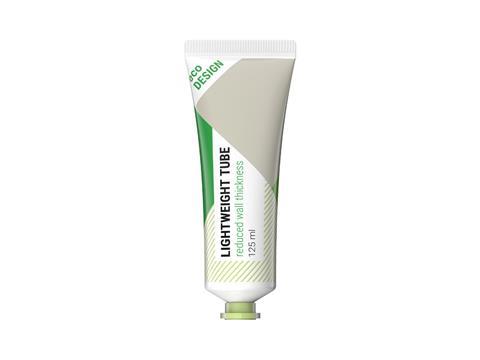 Hoffmann Neopac has introduced the latest addition to its EcoDesign tube portfolio – a new lightweight plastic tube with reduced wall thickness comprising up to 30% less virgin material.
According to the company, the use of such lighter-weight packaging reduces both shipping costs and extended producer responsibility (EPR) fees.
The new solution is available in plastic tube diameters ranging from 30-50mm, and in four substrate varieties: polyethylene and recycled tubes, each with or without EVOH barrier.
The reduction of material usage is most apparent in the tube's wall thickness, which has been reduced from 0.5 mm to 0.35 mm without, Neopac says, sacrificing "exemplary" haptics. Low profile closures are already in the pipeline with the aim of achieving maximum weight reduction in plastic tubes.
Neopac estimates that, in its own packaging manufacturing operations, the new tubes will eliminate the need for as much as 4.6 tonnes of HDPE materials per one million tubes produced. This translates to an overall carbon footprint reduction of about 8.6 tons of CO2 per million tubes manufactured.
"Finding ways to reduce the overall amount of material is mandatory for packaging suppliers to move toward ambitious sustainability goals," says Cornelia Schmid, head of marketing at Hoffmann Neopac.
"The challenge is always to boost a pack's eco-friendliness without sacrificing product protection or aesthetics. The new lightweight tubes are viable solutions for brand owners in a number of industries, helping meet increasing consumer desires for comprehensive product sustainability."