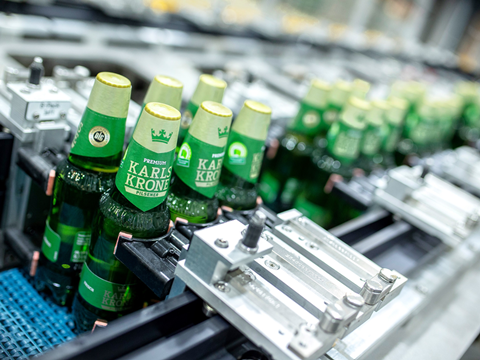 The new system joins beverage bottles together not with shrink film but with dots of adhesive to form a stable yet easy-to-separate pack. This enables up to 90% of the packaging to be saved. Compared to the pack variant currently on the market, comprised of film and weighing in at 7.5 grams, the novel setup uses just 1.5 grams of adhesive.
The beverage producer saves up to 67% in energy during production compared to shrink wrapping the containers in film as the material does not have to be heated. With the new pack Martens also does without trays. This saves raw materials such as paper and cardboard without impacting the pack's stability. Should bottlers and retailers require them, however, trays can be easily incorporated into the process.
New generation with increased capacity out this year
At the moment, up to 40,000 PET bottles an hour can be processed by Martens as Nature MultiPacksTM. Thanks to the expansion of its production capacities, KHS is able to meet a growth in demand. The systems provider is also to launch a new generation of NMP machines to market this year for the high-capacity range of up to 108,000 containers per hour.
In addition to using Nature MultiPackTM and FreshSafe PET®, those responsible at the company have also consciously gone for a fully recyclable bottle made of 100% rPET, even though virgin PET is less expensive. "With this hat trick, we're taking a clear stand for the protection of the environment. There's no system to compare with this on the market," concludes Martens.
This content was sponsored by KHS Group.