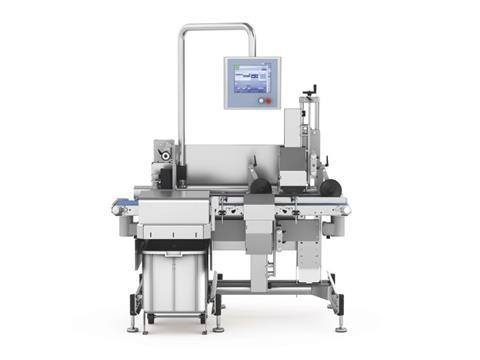 With its I 410 model MULTIVAC Marking & Inspection offers an automatic inspection solution, which the company says is precise, fast and consistently reliable.
Thanks to its high-resolution and height-adjustable line scanners as well as its powerful image pro-cessing, it ensures that reliable marking and quality inspection from above and below is achieved. The space-saving inspection system can be used flexibly as a stand-alone solution at the end of a pack-aging machine or it can be integrated seamlessly into a line.
The areas of use for the I 410 range from completeness checks on the packs, through to presence and position inspection of the labels, and right up to checking the print - and this includes pattern and character recognition, character verification and inspection of legibility and codes. The progressive image-capturing technology enables extremely good images in high resolution to be transmitted and verified even at the highest speeds within the packaging procedure.
The I 410 is designed in the MULTIVAC Hygienic Design for use in the food industry, and it is equipped with a separate transport conveyor. The packs can either be fed in manually or transferred from an upstream transport unit. Since a motorised ejection device ensures that reject packs are ejected consistently, compressed air is not required to oper-ate the inspection system.
The system is operated simply and reliably via the MULTIVAC HMI 2.0. Where the unit is installed in a packaging line, it is controlled centrally via the control terminal of the packaging machine, and all processes can be controlled intuitively on the 12 inch LCD touchscreen. MULTIVAC Line Control ensures that efficient line integration is achieved, and it enables product changes to be carried out very quickly since the setting parame-ters for the particular product are saved in the recipe. The inspection re-sults are also transferred to the line-motion control of the MULTIVAC machine, so that packs detected as rejects can be tracked and then reli-ably ejected from the line. This ensures that only faultless packs reach the retail outlets.
"Thanks to its modular construction, the system offers users a high level of flexibility as regards the use of different ejection options or visual in-spection modules such as cameras, barcode readers or sensors. This means that the I 410 can be designed precisely to the specific require-ments of the particular business," adds Stefan Korf, Product Manager for Inspection Systems at MULTIVAC Marking & Inspection in Enger.
More info: