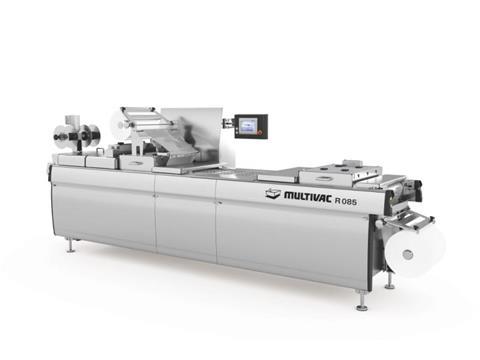 At FoodTech, which takes place from 8 to 11 May in Barcelona, MULTIVAC will be showing a broad cross-section of its packaging solutions for the food industry.
The focal points of the company's exhibition presence will include effi-cient solutions for the slicing, processing and packing of fresh meat, as well as specific packaging concepts for small and medium-sized processors, together with labelling, marking and quality inspection systems, and last but not least the company's comprehensive after-sales service.
As part of its focus on meat-processing businesses, MULTIVAC will be presenting packaging solutions, which include upstream process equip-ment for slicing sausage or ham, as well as systems for portioning meat products. The exhibition stand will feature a slicer and checkweigher, to-gether with a R 126 thermoforming packaging machine, for slicing and packing sliced products.
With the GMS 500 portioner and the universal GMS 1600 twincut por-tioning system from TVI, MULTIVAC will also be presenting two solutions for the processing of fresh meat. The T 600 traysealer and B 510 cham-ber machine as well as the high-performance R 515 thermoforming packaging machine, which is specially designed for the packaging of fresh meat, will be on show for packing these products.
To meet the requirements of hand producers and medium-sized pro-cessors, the exhibition stand will also be featuring the compact R 085 thermoforming packaging machine and R 105 machine, as well as the T 300 traysealer together with the C 500 and C 200 chamber machines.
As regards the sector of labelling, marking and quality inspection equipment, MULTIVAC will be presenting the flexible L 310 conveyor belt labeller, the cost-effective BASELINE I 100 X-ray inspection system and the I 410 vision system, which is ideal for a wide range of inspection tasks, such as performing a completeness check on a pack, monitoring the presence and position of a label, or checking the print on the pack.
An additional focus is on the comprehensive MULTIVAC service in the ar-eas of after-sales service and spare parts. In addition to featuring the company's own production of genuine spare parts, the exhibition stand will also have a touchscreen with the Webshop application, which will vis-ualize for visitors the straight-forward ordering process for spare parts.
MULTIVAC at FoodTech in Barcelona from 8 to 11 May 2018 (Hall 4, Stand C 315)
More info: