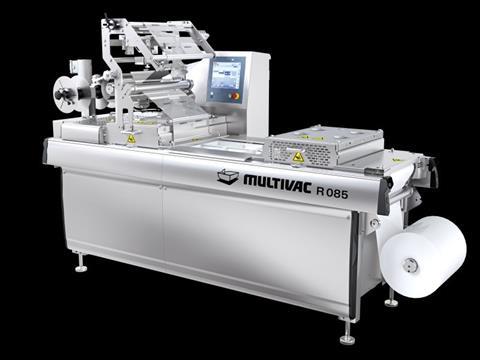 In addition to two chamber machines, the exhibits will also include a compact thermoforming packaging machine and a traysealer.
There is a clear trend in the bakery industry away from frozen products and towards MAP packs. MAP packs are proving to have benefits in particular for the overall logistics chain, since many bakery products, which are packed under modified atmosphere, can be stored without any additional chilling. When it comes to producing MAP packs, MULTIVAC offers thermoforming packaging machines, traysealers and chamber machines for a wide range of requirements.
Various compact machine models for producing MAP packs will be shown at the trade fair:The R 085 e-concept thermoforming packaging machine makes it easy for small, hand-producing businesses in particular to enter into automatic thermoforming packaging. It enables packs, which are attractive and appropriate for the individual product, to be produced in small batches for a wide range of bakery products. The machine does not re-quire water or compressed air connections, which means that it can be used very flexibly in the production environment. Thanks to a wide range of equipment options, it can be ideally matched to the customer's specif-ic requirements.
The semi-automatic T 250 traysealer is suitable for packing bakery products and snacks very efficiently in small batches. Thanks to its space-saving design and movable castors, this high-performance model can be used very flexibly - and it stands out from the rest for its hygienic design, very easy handling and first-class pack quality. Its automatic tray drawer guarantees ergonomic operation.
From the chamber machine sector MULTIVAC will be presenting two high-performance and equally versatile solutions at the trade fair. The C 350 chamber machine is equipped with two sealing bars, which enables it to be used particularly flexibly. As with all vacuum machines from MULTIVAC, the C 350 is also easy to operate, clean and service. The evacuation and gas flushing processes are pressure-controlled and thus guarantee a reproducible packing quality.
The economical BASELINE P 300 tabletop machine is a model, which is specially suited to packing larger products thanks to its roomy chamber (420 x 425 x 170 mm). Thanks to its compact dimensions, the BASELINE P 300 can be used very flexibly.
More info: