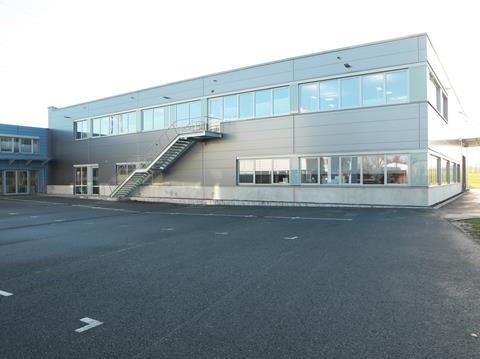 Last Friday MULTIVAC Marking & Inspection inaugurated a new production and office building during a celebratory opening ceremony - and at the same time it celebrated 25 years as part of the MULTIVAC Group.
The official speakers included Christian Traumann, Director and CFO of MULTIVAC, Volker Gerloff, CEO of MULTIVAC Marking & Inspection, and Thomas Meyer, Mayor of Enger. A large number of guests took part in the event, including Inge Nienhüser, Head of Town Planning, Development and Marketing for Enger, architect Frank Ebeler from Kenterplan GmbH and Guido Spix, Director and CTO/COO at MULTIVAC, as well as employees and members of the press.
After the initial greeting ceremony and the symbolic opening of the new building with the cutting of the tape by the company management, the guests were led through the new building and shown the state-of-the-art assembly and logistics processes. The afternoon was spent celebrating in a winter-themed marquee with a buffet and music.
"We are delighted to be able to officially open with you today the new building complex, which will house the new warehouse as well as manufacturing and pre-assembly departments over an area of 1,600 square metres. Thanks to the completely renovated production hall areas, it will be possible to expand the production capacity, particularly in the sectors of conveyor belt labellers and inspection systems. The investment amounted to around three million euros," said Christian Traumann. "In addition to this, there is another reason to celebrate: it is now 25 years that MULTIVAC Marking & Inspection has been part of our Group. Our subsidiary is an extremely important part of the MULTIVAC Group, and it is a leading supplier of innovative labelling, marking and inspection solutions in the market."
"In the course of the building work we have also used this opportunity to further optimise our logistics and assembly processes," explained Volker Gerloff. "This involved reorganizing all the process sequences in Goods Inward and Stores, as well as in the Manufacturing, Assembly and Dispatch departments. We are also introducing a shopfloor management system as the cornerstone of our lean management drive. The objective is to achieve more efficient planning and monitoring of operating processes, as well as a higher level of transparency, shorter reaction times and improved handling of resources."
Thanks to the shopfloor management system and the associated visualisation, all the production and operating areas can be displayed, any ongoing issues can be highlighted and a rapid response guaranteed. This enables quick and targeted communication to be achieved at all levels, so that measures for problem solving and improvement can be put in place.
There are currently around 200 staff in total employed at MULTIVAC Marking & Inspection in Enger. Following completion of the new building, the overall operating area has increased to 7,400 square metres. Around 900 square metres are taken up by the new Assembly/Production and Logistics areas, while 300 square metres are dedicated to other manufacturing such as machining and welding. In addition to this, some 30 new office spaces were created on the top floor.