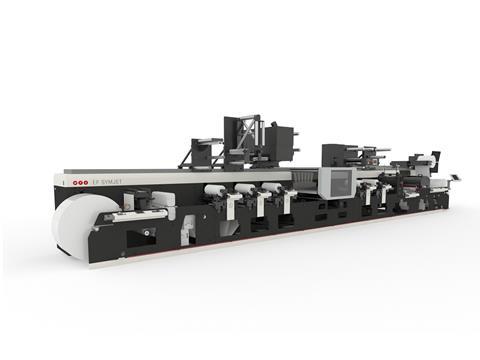 At this year's Labelexpo Europe, September 24-27 in Brussels, MPS Systems is presenting 'Beyond the Machine' on booth 11C20. How the Dutch press manufacturer offers valuable processes that extend beyond a top-quality printing press will be shared with label printers and converters.
Focus on lifecycle performance
At Labelexpo Europe, the press is not the primary focus for MPS. Atze Bosma, CEO of MPS explained: "Yes, our presses are top-quality, but we offer label printers and converters much more. High-level Service, and our knowledge of Connectivity and Productivity are the foundation for optimal lifecycle performance of MPS machines. The result: extremely efficient production of highest quality Applications."
What to expect on booth 11C20
In a glamorous Hollywood-style, theatre atmosphere, the 'Beyond the Machine' concept will be demonstrated with four islands surrounding the MPS printing press, each showing strengths of four key processes: Connectivity, Applications, Productivity and Service.
To showcase the range of MPS print capabilities, MPS has invited customers to submit their unique label applications printed on their press for a chance to win an MPS Label Award. The most beautiful labels will be displayed on the Wall of Fame.
"This year's Labelexpo Europe will be unlike anything we've shown before," said Inge Smolders-Brinkman, Manager Marketing Communications. "Not only are we bringing a unique press, equipped to create highly complicated and special labels; we're showing that an MPS press is only a tool to achieve the best and complete lifecycle performance."
Presentation of the EF SYMJET hybrid press
Demonstrated on the MPS booth will be the hybrid EF SYMJET press, presented for the first time with an exclusive Domino digital N617i inkjet printer, in a wider 17"/430 mm width and in a new colour scheme.
Equipped with five flexo stations, digital cold foil, a Kurz cold foil unit for single images and optical effects, lamination and die-cutting; the EF SYMJET will print and show unique label applications.
Hans Poortinga, Manager of the MPS Technology & Expertise Centre commented: "At Labelexpo Europe, our goal is to push the limits of flexo and inkjet printing and converting by creating the most exclusive and highly-complicated labels. Visitors will see the combination of two different foils, 3D lenticular labels and variable data, and learn first-hand how hybrid printing can evolve their business."
MPS invites Labelexpo Europe visitors to experience 'Beyond the Machine' with Hollywood flair on booth 11C20 (hall 11).