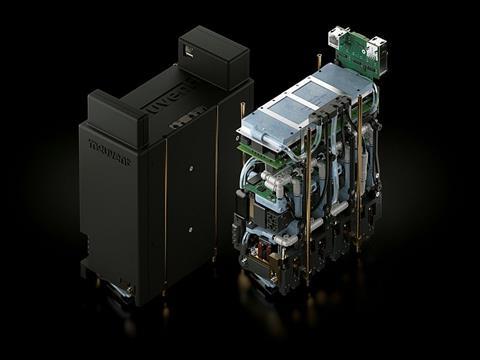 Mouvent will present its Mouvent™ Cluster Technology for digital label printing at this year's Labelexpo Americas exhibition, taking place September 25-27, 2018 in Rosemont, IL, USA. The Mouvent team will be at booth #5200 in Hall F of the Donald E. Stephens Convention Center.
At the booth, attendees will have the opportunity to see the revolutionary Mouvent™ Cluster print head up close. The Mouvent™ Cluster is at the heart of the company's innovative technology – a radical new approach, which uses compact and lightweight clusters instead of fixed size print bars by color, arranging them in a modular, scalable matrix. The result is one system that can be simply adapted for all sorts of substrates, widths, and for all type of markets. Print samples from the three available Mouvent digital label printers – which are all based around the Mouvent™ Cluster – will be on show at the booth.
"Mouvent recognizes the importance of the American label market, and we look forward to discussing our revolutionary technology with the attendees at Labelexpo," said Dean Haertel, Sales, Service & Marketing Manager for label machines for Mouvent in North America. "This is a first step for us in America, a great opportunity to meet some people and explain how the cluster approach will make digital label printing more accessible, more flexible, cheaper and simpler, while maintaining the highest quality standards. We are currently working hard to prepare for our inaugural launch in America and the Labelexpo is a fantastic milestone towards that goal."
Mouvent is currently working on its tailored sales and service structure for the US market as well as on setting up a show room before offering and selling its solutions into the country. The company aims to launch the first of its innovations in America in 2019.
So far, Mouvent has launched three digital label printers in Europe – the LB701-UV mini label press, which is the smallest high-productivity label press on the market; the LB702-UV label press, which allows fast and easy industrial label production at an incredible TCO; and the game-changing LB702-WB label press, which uses only 100% water-based Mouvent™ Inks, making it 100% free of VOCs (volatile organic compounds) and 100% food safe.
The three label printers can all print up to 7 colors on a large variety of substrates – paper, self-adhesive and wet-glue label stock as well as flexible materials – at production speeds of up to 100 m/min with a native resolution of 1200x1200 and optical 2000 dpi. Print samples will be available at the booth. "Mouvent brings a breath of fresh air to the digital printing industry," said Martin van Waeyenberge, Global Marketing & Sales Manager for label machines at Mouvent." People who have witnessed our label printers during live machine demonstrations or carried out test runs on them were extremely impressed with their print quality - we're sure that visitors to our booth at this year's Labelexpo Americas will be too. Providing highly innovative digital printing machines, for both UV and water-based high-quality label production, at a competitive cost, is what it's all about."