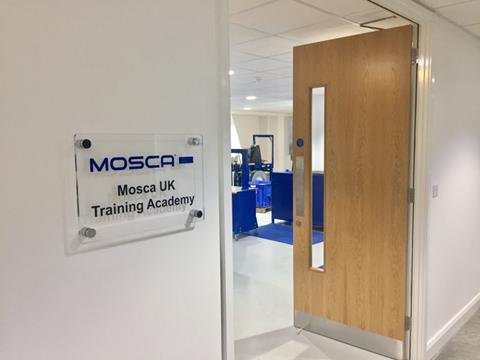 Strapping specialist Mosca Direct Ltd has opened a new high-tech customer training facility, The Mosca UK Training Academy, as part of its recently-completed refurbished head office in Cotgrave, Nottingham.
The £500,000 investment has created additional space in response to the company's impressive year-on-year success since it was established as a dedicated UK sales and service facility in 2000, and to allow for future growth. As part of this, it was imperative that the redeveloped site should include a modern training facility to further enhance Mosca's service offering to customers as well as provide better capacity to train its own sales and engineering staff in new machine developments.
Mosca has offered customer training for many years at two levels - basic Operator Level, which covers the fundamentals of machine operation and daily/weekly housekeeping; and a second, more advanced Engineer Level, which teaches in-depth dismantling and reassembly of the strapping heads for fault-finding, repairs, maintenance and cleaning.
The Mosca UK Training Academy consists of a classroom area with TV and white boards, plus a fully-operational workshop which is home to several pieces of key training equipment. The training machines - a SoniXs standard strap way 6 test rig and head, a KSR test rig and head, SoniXs test rig and head, and a MCB head – have been specially commissioned for this purpose and are free from machine housing, allowing working mechanisms to be visible and accessible. This ensures that trainees gain an in-depth understanding of the four key procedures of a strapping machine - magazine, feed, retraction and tension, and cut and seal.
Julie Walton, Engineering Operations Director at Mosca UK, says the new training facility is a significant development. "As a business, we constantly look at ways to maintain a level of service to our customers that is second to none and ensures that we stand out from our competitors," she explains. "We have always been able to offer Operator and Engineer level training, but previously it would have been carried out on-site at the customer's location and required a machine to be taken out of production. This may have an impact on production schedules, and is often a very noisy and distracting environment for the trainee. With our new, purpose-built facility, we can offer training in perfect 'off-site' conditions for effective learning that allows trainees to ask questions relevant to their business." In addition, the opening has enabled Mosca Direct to offer additional training options. The Mosca UK Training Academy can accommodate up to four people for a full day of training which can be tailored to whatever the customer needs, for example focusing more on the electrical or mechanical side. For Operator Level training, one full day is required. For Engineer Level, one full day is also required depending on the experience level of engineers attending and the type of machine. At the end of the course, each participant is awarded with a certificate to verify their level of training. This is required by employers for Health & Safety reasons before a machine can be safely operated. Depending on each company's own Health & Safety Policy, customers may also request refresher courses.
Throughout the year, Mosca will also have different machine models situated in a new demo area. This allows customers to see machines in action and they can bring along their own products to test the various strap tensions and see the pack sizes that can be accommodated. "This will give customers who have the same machine the perfect opportunity for specific machine training," concludes Julie Walton.
More info: