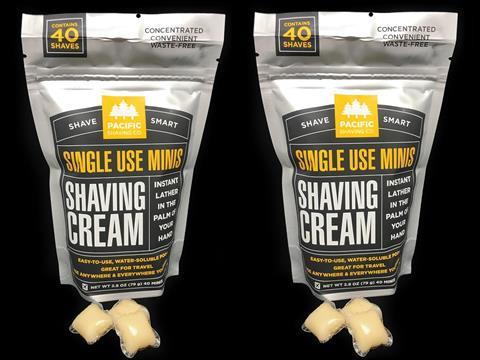 MonoSol, a Kuraray Division, is proud to announce its New Business and Innovations team was inducted into The Society of Innovators of Northwest Indiana on October 26, 2017. The team was recognized for helping bring transformational innovation to the personal care market with water-soluble film used to make unit-dose pods of shaving cream that dissolve with water.
Created with Pacific Shaving Company, this packaging evolution replaces bulky cans and tubes and leaves no waste. Consumers have found Shaving Cream Minis are easy-to-use pods that make it more convenient to use at home, the gym or when traveling. "MonoSol was inducted as a new team member this year, because they are a great example of the significant innovation taking place in northwest Indiana every day and impacting the world," said John Davis, managing director, The Society of Innovators of Northwest Indiana, Ivy Tech Community College. MonoSol developed the dissolvable pods with a proprietary blend of food-grade ingredients. They are transparent, odorless and tasteless. The pre-measured shaving cream minis are sold in a standup pouch, which is supplied by California-based Excel Packaging. The pouch holds 40 pods and is made with high-barrier PET film that is laminated to a linear low-density polyethylene film.
Among the obstacles the MonoSol team overcame in creating the film was first ensuring it maintained its integrity throughout the entire supply chain – from production to the consumer's hand. The film then had to dissolve as quickly as possible when it contacted water.
"Innovation and collaboration with our customers are the cornerstones of our growth and success," said P. Scott Bening, President & CEO, MonoSol LLC. "Globally, we expect continued growth for unit-dose products, primarily in developed markets, where consumers seek convenience items. In the personal care market, this water-soluble film technology is ideal for other consumer segments, such as shampoo, lotion and bath oil."
Each year, individuals and project teams are nominated to The Society of Innovators. They are selected through a rigorous process by regional leaders who confer upon them honorary Membership. In 2010, MonoSol's P. Scott Bening was inducted as a Fellow of The Society, which noted his role in leading the company's growth by spearheading the invention and development of unique applications for water-soluble films.
More info: