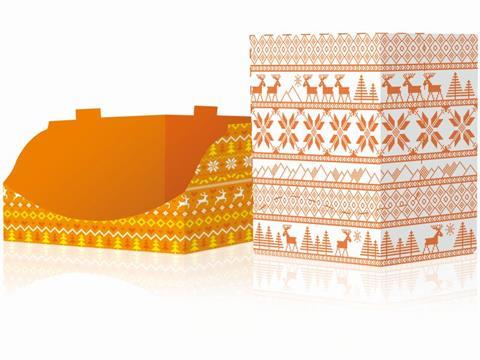 Mondi will showcase its portfolio including global and local premieres of new sustainable packaging innovations at RosUpack 2018.
At this year's RosUpack, Mondi will exhibit products and solutions that respond to sophisticated consumer demands and industry trends. This includes the global pre-launch of a new premium design paper in the PERGRAPHICA® portfolio: PERGRAPHICA® Infinite Black. Mondi will also showcase the corrugated e-commerce solution '(Re)use', before its upcoming market launch in Russia.
Sara Sizer, Group Communication and Marketing Director, Mondi Group, says, "Russia is an important market for Mondi and we have a strong presence here: two consumer packaging plants, one corrugated packaging plant, and our pulp and paper mill in Syktyvkar. For the fifth year in a row, we are at RosUpack to meet our customers and suppliers and discuss how Mondi's innovative packaging drives sustainable success."
Mondi focuses on research and development into high-performance paper, sustainable plastics and state-of-the-art printing, and partners with customers and suppliers to address industry and consumer trends such as lightweight packaging, flexible alternatives to rigid packaging, packaging designed for e-commerce, and high-quality packaging that offers end users greater convenience and ease of recycling. In 2017, Mondi received five global World Star Awards for its unique packaging solutions.
Georg Kasperkovitz, CEO of Mondi's Consumer Packaging business, explains, "We give our customers a competitive advantage in their respective industries. Many of our packaging solutions and designs result from close collaboration with major companies around the world to develop the sustainable and innovative solutions they and their customers require. Today's end-consumers are attracted by packaging that stands out through appealing design and innovative features. Our design process also considers our customers' logistics chains, making them more efficient and economical."
A broad range of Mondi's packaging and paper solutions will be presented at RosUpack 2018, including flexible packaging, corrugated solutions, industrial bags, containerboard and office and professional printing papers.
Some highlights at RosUpack from 26-29 June in Moscow are:
• Mondi will present the global pre-launch of an exciting new product in the PERGRAPHICA® portfolio: PERGRAPHICA® Infinite Black. This paper was developed for premium creative print and packaging applications such as shopping bags, covers or liners. PERGRAPHICA® Infinite Black will inspire designers with its smooth feel and deep shade, while providing outstanding folding and varnishing properties, food safety certification, and a wide range of substances. PERGRAPHICA® is Mondi's premium design paper, covering the needs of the creative and print industries. In addition to PERGRAPHICA® Infinite Black, PERGRAPHICA® is available in a variety of white shades and textures for the most demanding applications while meeting top sustainability standards. It is the paper chosen by Russia's Bolshoi Theatre for their printed programmes and promotional materials.
• Mondi will showcase '(Re)use' before its upcoming market launch in Russia: (Re)use is a process-efficient and consumer-friendly corrugated e-commerce solution with double hot melt application. This solution increases handling efficiency during fulfilment through its easy closure, thus eliminating the need for additional foil bags in transport. The tear-open strip enables convenient, easy opening at the point of delivery, while the second hot melt strip supports simple, tapeless reclosure for returns.
• Mondi's customised wicket bags for personal hygiene and household paper products are designed for high-impact shelf appeal. Along with high tensile and sealing strengths, these Mondi films and laminates run superbly on packaging lines. The wicket bags are available in environmentally friendly formats.
• SPLASHBAG, made of Mondi Advantage Protect sack kraft paper, originally launched in 2015 and improved through R&D, is even more water repellent than before. This industrial-strength paper bag is now able to resist rain for up to six hours and can be stored in wet environments for up to five days. Afterwards, the bag can be handled and emptied without any breakage, making it the ideal solution for moisture-sensitive powdered products like cement and other building materials.
• The Mondi flexible cement bag meets the highest demands for cost-efficient packaging for cement and dry construction mixtures. It is a high-performance tubular form-fill-seal (FFS) film. The core element of this packaging is its moisture and dirt protection to prolong shelf life, even if the goods are stored outside. When its attractive appearance, convenient side gusset, and optional ventilation system are combined to full advantage, they create a decisive competitive edge at the point of sale.
• ProVantage Komiwhite. This 'Nordic fibre paper' is a first-class paper for strong, shelf-ready packaging solutions that catch the eye with a bright and attractive appearance. The white top kraftliner paper grade offers unprecedented quality in terms of printability, paving the way for enhanced visual branding.
Visit the Mondi booth in Hall 15, Booth B503, at RosUpack, 26-29 June in Moscow, to learn how Mondi is a partner for success for food & beverages, retail and construction, as well as many other industries.