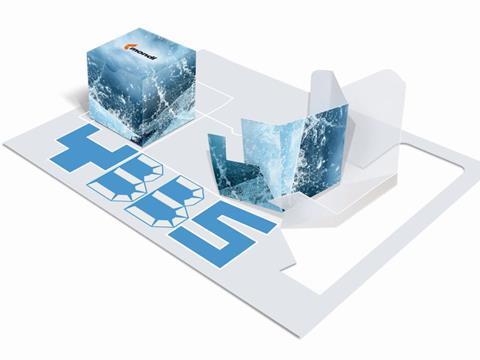 Mondi, the international packaging and paper group, is focusing on its solutions for customers in the food & beverages sector at the upcoming interpack fair in Düsseldorf. Food & beverages is one of three sectors in focus at the Mondi booth, where visitors can experience special product discovery areas including a staged kitchen.
Mondi is a trusted partner of customers in the food & beverages industry around the world. We offer innovative packaging solutions that meet the highest standards of quality, hygiene and protection for bakery products and ingredients, cheese and dairy products, crisps, snacks and nuts, confectionery, coffee, dehydrated and dried food, fresh and chilled food, fresh fruit and vegetables, frozen food and ice cream.
Here are some examples of Mondi's solutions for the food & beverages sector:
• Mondi's BarrierPack range contains high-performance films and laminates with multiple layers for the food & beverage, home & personal care, pet care and other FMCG markets. They are tailored to customers' requirements to ensure they provide an excellent barrier against oxygen, UV light, water vapour, odours and mineral oils, while protecting the aroma and freshness of the packaged product.
• Together with customer Mars Africa and Afripack Consumer Flexibles, Mondi developed an innovative material for packaged soups that uses a paper laminate with a high barrier film. This high-barrier, non-foil solution protects the product and gives it a long shelf life. By introducing a special sealing polymer, the sealing temperatures could be significantly lowered, resulting in much lower energy use and higher efficiency on the filling lines.
• Pre-made spouted pouches for food, beverages and pet food offer all the benefits of stand-up pouches with easy to open, easy to use and easy to reclose spouts. Spouts are the ideal closure solution for direct consumption and easier use. Different laminates enable retort processing, hot-fill or ambient-fill processing, and can be structured to meet customers' various application conditions and needs.
• PE-inliner bags with Hot Lock Bag® sealing are designed for the particular needs of the food industry. Produced under strict hygienic conditions, these open mouth bags act as a moisture barrier for hygienic and safe packaging and optimal protection. Hot Lock Bag® sealing technology ensures reliable closing under strict hygiene standards.
• ProVantage Komiwhite / ProVantage Baywhite are Mondi containerboard grades that offer food & beverage customers premium printing and branding opportunities through their bright white surfaces. They provide a strong box performance, for example for shelf-ready packaging solutions, that can enhance a brand's image and messages, setting a product apart from the competition. One example is Austrian confectionery brand Casali, which uses ProVantage Baywhite for its premium product presentation on the shelf.
• Advantage Smooth White is a calendered speciality kraft paper for attractive and functional food packaging for supermarket shelves. It offers premium branding through its very good printability, high whiteness and excellent strength. It is ideal for sugar bags, such as those used by the Polish sugar brand Krolewski.
• Advantage Kraft White Print combines the excellent printability of calendered machine finished grades with the strength properties of standard sack kraft papers. Customers benefit from new branding possibilities and decreased total package costs. It is well suited to open mouth bags used, for example, to package dry pet food.
• The YBBS® premium board range is 100% virgin fibre board that complies with the BfR recommendation XXXVI for food contact.• In the IQ color range of tinted papers, Mondi offers papers equally suitable for food contact. Mondi's production process for folio sheets and reels is certified according EN 15593 hygiene management system to ensure suitability for food contact.
As a full-range packaging and paper supplier, Mondi provides more than 100,000 different solutions to customers in many different industries. At interpack, Mondi will demonstrate its wide-ranging expertise through its theme for the fair of "Discover how Mondi's products touch millions of lives, every day."
Visit the Mondi booth in Hall 9, Booth A24/B23, at Interpack, 4-10 May in Düsseldorf to learn more than you expect about Mondi's solutions for the food & beverages sector as well as many other customer industries. Mondi's team of experts looks forward to welcoming you and helping you discover how Mondi's products touch millions of lives, every day.
More info: