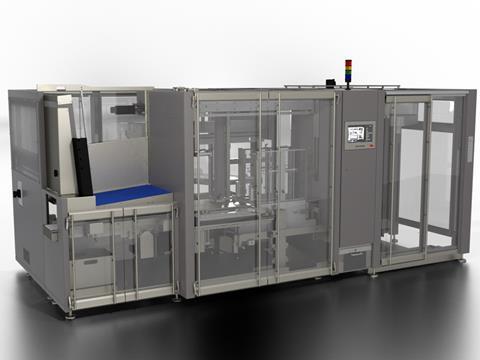 End-of-line packaging machinery specialist Meurer introduces its latest combi packer, CM/CC 8, in this edition of our Innovation Spotlight series.
Having been active as a machine manufacturer for the pharma industry over multiple decades, Meurer has built up significant know-how in the area of end-of-line packaging machines with dedicated features.
With a particular focus on blister-in-box solutions, Meurer introduces the combi packer CM/CC 8 - which comprises all of the advantages of our case packer and palletizer platforms in one single solution, with a compact design.
With minimized demands in terms of footprint and height during operation, this solution provides high efficiency and integrated functions for space-restricted production conditions. The packaging function includes the collation of single boxes, bundles, and side loading into RSC cases, all the way up to the formation of pallets.
Across those functions, the format range exceeds that of our standalone machines by still being highly variable. A format change can be performed in less than ten minutes.
Also, the change of the finalized pallet happens without the need to stop operation, by coming along with only one loading position to avoid any compromise on space requirements. A new pallet will be loaded automatically once the already loaded pallet is removed.
The cycle speed ranges from six to eight cases per minute and, to avoid any product loss, the rejection of single cartons is possible. Specific pharma functions, like track-and-trace via a camera system and labelling, are fully integrated with highly flexible options depending on the final case design and customer demands.
As a general design feature, the machine can handle Euro, Industry, or US pallets and realizes a palletizing height of up to 1,500mm. It goes without saying that all our machines follow the principles of high efficiency, ease-of-use and outstanding operator support.
Advantages of the system at a glance:
Smallest footprint
One HMI and one PLC
Track and trace integration at any time without any effect on footprint
XXL format range of AxBxH 600x500x500
Output 6-8 cases
Double shaft system
Multifunction scara robotic system for case loading and buffering in the palletizer zone
Effective palletizing height of 1,500mm
Height requirement below 2,300mm of the whole system also in operation
Pallet change without stop
User-friendly design
Quick format change below 10 minutes
Product reject with minimized product loss
Our experienced sales team is available for any questions about the functionality of the system and our sales and service team is ready for a plug-and-play start up to ensure safe and trouble-free operation.
This content was sponsored by Meurer.