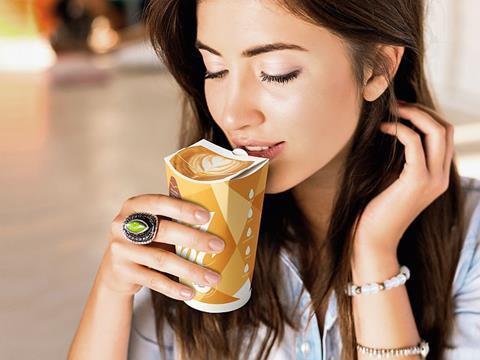 Metsä Board has announced that its revolutionary paperboard cup design, 'Lidloc', has been awarded the coveted 'Red Dot' for design excellence and creative achievement.
A 24-member jury examined, discussed and evaluated over 8,600 international communication design works before deciding upon the winners of the coveted Red Dot awards, one of the world's largest design competitions.
The Lidloc design is based upon an extension to a standard cup structure that folds and locks into an integrated lid. The one-piece construction made of paperboard removes the need for a separate plastic lid. The cup is easy to fold and assemble with a secure lid-locking design and offers extra branding power as it can be printed as one piece with the rest of the cup.
Lidloc is an example of how Metsä Board develops more environmentally friendly and more efficient packaging and helps to use the potential of lightweight paperboards in an innovative way. Cyril Drouet, Metsä Board's Packaging Services Director says: "The Red Dot Award is one of the most recognised design awards within the packaging industry. We are delighted to see our patented Lidloc cup getting this recognition as we believe it offers a more sustainable alternative to single use plastic lids. We are going to start testing Lidloc with selected customers over the coming months and after careful testing we will be ready to bring the design more widely to the market."
The ceremony for the Red Dot Awards took place on 26 October during the Designers' Night at the 'ewerk' in Berlin. The prize-winning projects will also be featured in the 'International Yearbook Communication Design 2018/2019', which will be published on 15 November and distributed in 40 countries.