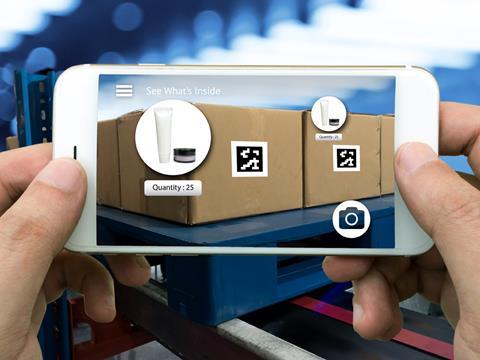 I can't imagine any of us will be sorry to see the back of 2020, but a new year is beginning soon on a fresh wave of – dare I say it – tentative optimism (for various reasons). In the coming weeks, in a series of short pieces, we will look at some of the key trends / advances on the horizon in packaging for the coming year. First up is smart packaging.
Expect to see further advances in the area of augmented reality. The much-discussed (and to some controversial, if you believe in that particular conspiracy theory, which I don't) introduction of 5G in 2020 has paved the way for further advances here thanks to the increased speed and power of devices. More AR-enabled packaging, as well as offering brands the ability to 'surprise and delight', will also encourage companies to be more transparent about their processes - something consumers are increasingly demanding.
The Covid-19 pandemic will clearly have repercussions for the coming year, and this will naturally result, says Eef de Ferrante, head of the Active & Intelligent Packaging Industry Association, AIPIA, in an increased focus on any technologies that will improve security and traceability in supply chains.
"So companies like Systech and Kezzler – but by no means only them – who are offering authentication solutions are clearly attracting a lot of interest. While provenance and authentication are high on the agenda just now the major brands are not ignoring counterfeiting or product diversion, which seem to become more prevalent in disrupted supply chains. Of course these issues are all connected. Connected packaging seems to offer some clear solutions. This is resulting in more investment in RFID and NFC tag technologies. Avery Dennison, with its Smartrac purchase, is expanding its range rapidly. For example it has recently introduced an inlay that combines item-level tracking and digital ID capabilities."
A consortium of RFID technology companies and major pharmaceutical manufacturers has recently formed a consortium, DoseID, to support the quality, performance and interoperability of tagged drug products along the pharmacy supply chain. It's possible this is the first of many such cooperative ventures - the IBM Food Trust blockchain platform being another example put forward by Eef.
Naturally, the Covid-19 has put hygiene and food safety concerns very much to the forefront for consumers and the industry. AIPIA sees a big opportunity for active technologies to extend shelf-life and reduce microbial growth to gain more traction. "People want to feel confident about the quality and safety of food, says Eef. "But they have to shop less frequently so are turning more and more to pre-packaged products. Smart packs can extend life and show the condition of the food inside. That is a win-win situation."