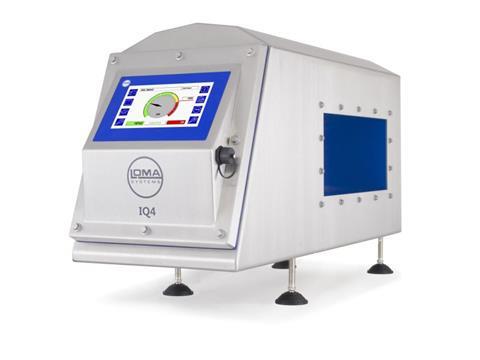 Loma Systems® will be highlighting a wide range of 'Check and Detect' contaminant inspection equipment for the global food industry at PPMA 2017.
The newly launched next-generation IQ4 metal detector series with improved detection sensitivity and compact X5C X-ray and Checkweighing combination machine, specially designed to ensure compliance with retailers' codes of practice and average weight legislation, will be on stand. The exhibit will also feature the company's durable, flexible and factory-friendly X5 X-ray inspection models - used widely by food producers across the world.
Loma's revolutionary IQ4 series of next generation metal detection systems offer significantly improved sensitivity compared to previous models and a plethora of exciting 'industry first' features purpose designed to deliver optimum production efficiencies. With the combination of enhanced Auto Learn functionality, improved product screening and more sophisticated signal processing, the IQ4 provides significant improvements in detection performance.
The IQ4 has enabled Loma to introduce true Variable Frequency technology to its Pipeline, Waferthin and Vertical Fall metal detectors for the first time. Operating between 31-882 kHz, all metal detectors in the IQ4 range are capable of automatically selecting correct operating frequency so changes in products or packaging that necessitate an alteration in frequency no longer require costly and inconvenient operator intervention.
In addition, Variable Frequency allows processors to easily run different pack sizes and shapes whilst benefiting from improved stability and sensitivity.
In an industry first, all models in the IQ4 Metal Detector range boast a newly designed 7" colour touchscreen with a modernised and more intuitive interface that has been developed to simplify operation.
A unique new blue sealing arrangement coupled with a 'beyond' IP69K ingress rating helps make the horizontal search heads resilient to a host of tough factory conditions, including thermal fluctuations as a result of inspecting frozen food products and high temperature wash down with corrosive chemical agents.
The IQ4 also offers Optimised for Aluminium capability for Performance Validation System (PVS) testing, product speed control, connection to TRACS software for centralised data reporting, support for biometric security and will include robust support for FDA 21 CFR Part 11 compliance.
Loma's popular X5C X-ray and CW3 Combo inspection system is capable of weighing products while simultaneously inspecting for foreign bodies, all in one integrated system. The integrated 'detect and weigh' technologies ensure food safety for brand protection, and consistency in weight, size and shape. Measuring just three metres in length, it can be easily integrated where production space is limited. Produced from 304 grade stainless steel, the combo unit is lead free and offers an unrivalled IP66 wash down design. Capable of running at speeds up to 150 packs per minute, it has separate reject bins for out of weight and contaminated products.
Loma's X5C unit reduces the cost of ownership of X-ray technology when compared to conventional X-ray models, making it ideal for food companies keen to make the switch to X-ray for the first time or to replace lower performance ferrous-in-foil twin head metal detectors.
The X5C is ideal for the detection of all metal types, glass, calcified bone, rubber and stone in various packaging. The machine is capable of handling products up to 100mm (height) x and 300mm (width) and weighing no more than 6kg – making it ideal for a wide range of inspection applications.
Loma's range of CW3 checkweighers offer peace of mind that every packed product leaving the production line will have the correct weight and meet strict legal or retailer requirements.
More info: