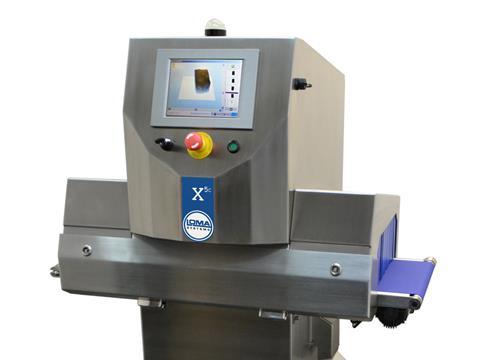 Including next-generation IQ4 metal detector series and factory-friendly X-ray inspection units for first time users and packaged, bulk, loose and pumped products.
Further demonstrating its unrivalled position as the partner of choice for product inspection equipment, Loma Systems® will be showing a wide range of Designed to Survive® contaminant inspection equipment for the food and pharmaceutical industries at interpack 2017. This includes the introduction of its exciting next-generation IQ4 metal detection technology, which has been specially designed to meet common inspection challenges and provide many customer benefits based around robustness, performance, usability, quality and flexibility. The company will be highlighting its durable, flexible and factory-friendly Xray contaminant inspection solutions, which are the choice of many food producers around the world. Offering low lifetime cost of ownership, the compact X5C X-ray inspection system is aimed at first time users whilst the X5 combination (Combo) X-ray and Checkweighing unit ensures compliance with retailers' codes of practice and average weight legislation.
A Lock PH Pharmaceutical Metal Detector and TRACS, an advanced data management and reporting tool for helping plants better understand product inspection performance and trends, will also be featured on stand. Loma's technical and application experts will be available to answer questions and discuss individual requirements.
Loma's X5C X-ray inspection unit reduces the cost of ownership of X-ray technology by 30 per cent when compared to the company's other models, making it ideal for food companies keen to make the switch to x-ray for the first time. It offers high quality contaminant inspection using a reduced number of well-proven subcomponents and compact design and can detect glass, calcified bone, rubber, stone as well as ferrous and non-ferrous metals, and stainless steel.
Capable of handling products up to 100mm (height) and 300mm (width) but weighing no more than 3kg, the X5C is particularly ideal for the inspection of ready meals, small packaged goods and convenience food.
To help comply with CFR21 part 11, Loma's compact X5C is multilevel password protected for improved data management allowing the system to log events against individual operators. Produced from brushed stainless steel, Loma's X5C X-ray unit also offers an ultra-hygienic design for easy cleaning and low maintenance and serviceability.
Loma's combined X5 X-ray and CW3 Combo inspection system is capable of weighing products while simultaneously inspecting for foreign bodies, all in one integrated system. The two combined 'detect and weigh' technologies ensure food safety for brand protection, and consistency in weight, size and shape. The popular Lock PH Pharmaceutical Metal Detector offers advanced detection performance, construction quality and reliability characteristics, making it suitable for pharmaceutical and neutraceutical tablet press and de-dusting processes. It is easily integrated with tablet presses, de-dusters, polishers and encapsulation equipment.
The PH unit offers best in class calibrated detection levels of 0.25mmFE, 0.3mmNFE and O.4mmSt/St. Four password protected security levels are provided for operators, supervisors, engineering and administration. It is available with fully documented IQ, OQ and PQ validations for compliance with FDA, GAMP and GMPspecifications. It is design and construction compliant with 21CFR parts 10 and 11 and certified to NEMA 4X / IP66.
More info: