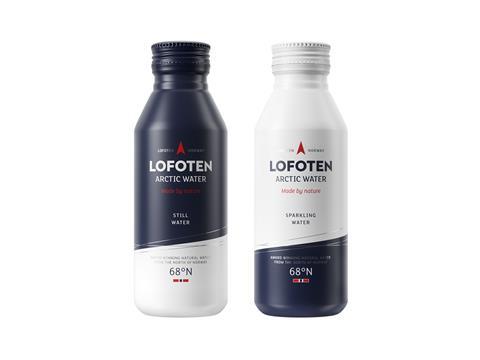 Lofoten Arctic Water, a natural premium water from Norway's Lofoten Islands, is launching in a new range of recyclable aluminium bottles made by Ball Corporation.
The new bottles will be filled near the water source in the Lofoten Islands – a sparsely populated area of Norway located between the 68th and 69th parallels, north of the Arctic Circle.
With no need for filtering or distillation, the water is renewed by glacial melt and snow all year from the surrounding mountains, and from rain during the summer months.
When looking for a bottling partner, the Lofoten Arctic Water team says that it was seeking a new packaging solution that would avoid micro-plastics polluting waterways, while conserving natural resources.
Beyond being recyclable, the bottles also reportedly conform to the Nordics' highly efficient deposit return schemes, including reverse vending machines, where consumers can ensure empties make it back into the system to be recycled.
The resealable Lofoten Arctic Water aluminium bottles were designed by Strømme Throndsen Design. The blue, white and red bottles, recalling the Norwegian flag, have just won 'Best Natural Still' and 'Best Natural Sparkling' waters at the 2020 Zenith Global Water Drinks Awards, together with the 'Best in Can' packaging award. This follows a Silver at the recent Penta Awards for the design.
The bottles will be initially launched in Norway, France, Germany, Taiwan and the UK, with further countries currently in development.
Ivar S. Williksen, CEO Lofoten Arctic Water said: "We chose the aluminium bottle for several reasons: the pure water chills faster, the bottles work brilliantly on the go and aluminium recycles forever. With the screw-off and screw-on cap, our consumers can drink as much or as little as they want. When the bottle is empty the consumer may choose to refill and reuse the bottle or, of course, recycle it.
Today's announcement follows the news last year that Ball has earned the Aluminium Stewardship Initiative (ASI) certification for all 23 of its Europe, Middle East and Africa (EMEA) beverage can plants. Ball is the first beverage can manufacturer to meet ASI's environmental, social and governance principles.