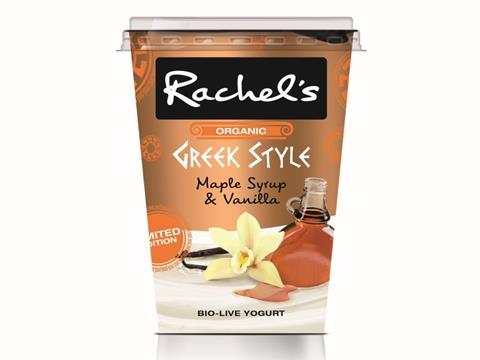 Parker Williams, brand design experts, have created the packaging design for a new luxurious flavour within the Rachel's Limited Edition portfolio.
The product, developed by Lactalis Nestle Chilled Dairy, is a delicious Greek Style Maple Syrup & Vanilla yogurt and will be available in Waitrose from 6th June.
Rachel's Maple Syrup and Vanilla Greek Style features the instantly recognisable Greek motifs introduced by Parker Williams across the Greek Style range, alongside vanilla pods, which are delicately nestled next to a jug of amber coloured maple syrup. The warmth of the colours associated with the maple and vanilla ingredients contrast pleasantly with the cream.
Jo Saker, Creative Director at Parker Williams said: "We enjoyed working on this limited edition flavour, particularly because the combination of flavours are so warming and delicious. We wanted to ensure the consumer was able to gain a sense of taste through glancing at this pack on shelf, therefore our design focuses on dialing up the appetite appeal."
Daniel Wheeler, Marketing Manager, Lactalis Nestle Chilled Dairy said: "Parker Williams has produced beautiful work for our Rachel's brand. This gorgeous combination of flavours has been brought to life so effectively on pack. We're very happy with the end result."
The product hits the chilled dairy aisle in Waitrose on 6th June with a RRP of £1.99
More info: