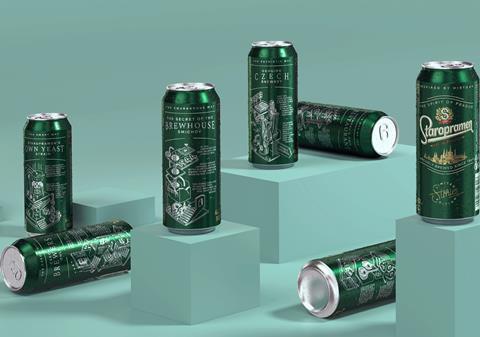 Cocoon, a branding agency based in Prague, Czech Republic, has created a set of limited-edition cans, off-pack materials and videos that bring Staropramen's historical stories to life around the world.
Limited editions always represent a great opportunity to refresh packaging and communication. Moreover, they are an ideal platform to play out brand values and tell new stories.
Cocoon's client Staropramen Global – one of the largest Czech beer brands – has recently adjusted its brand positioning. Its Czech origin, long brewing tradition and storied heritage make it attractive for consumers all over the world; in Europe, especially, it is becoming increasingly popular. Molson Coors had decided to strengthen these valuable assets while promoting the new "Life your way" positioning and has started a 360 campaign to bring historical Staropramen stories to life. Cocoon's goal was to create a set of limited-edition cans and supportive videos that deliver the selected key stories.
Older brands have considerable wisdom to impart to younger generations, especially those that have successfully adapted with the times. They can inspire us about what's truly important at a time when so many people are trying to find their "true" way of life. Staropramen can definitely work as that source of knowledge and inspiration, which is concentrated in its unique story and physically at the Smíchov brewery. The brewery, with its specific genius loci, serves as a symbolic place where the spirit of the brand has been alive from the beginning in 1869. Almost every inch of brewery's premises can has a story to tell.
One can learn a lot of interesting information - either about the start-up foundation of the brewery, legendary brewmasters, the patriotic Czech statue installed in the brewery, the biggest pub in the brewery yard, or about Staropramen's unique yeast strain being cultivated since 1900, and how the brewers' risked their lives by hiding the precious copper kettles from the Nazis.
These six stories -- graphically dramatized in a unique style balancing a modern approach and historical elements -- stand for a strong visual metaphor of the Staropramen of today.
Despite the limitations of the dynamark printing technology such as single-colour illustrations, Cocoon tried to convey craftsmanship, attention to detail, passion, and respect for the milestones of the brand's history. The collection is complemented by animated videos and in-store materials such as posters and beer mats; however, the best way to enjoy it is opening the crafted yet simply elegant wooden gift box.