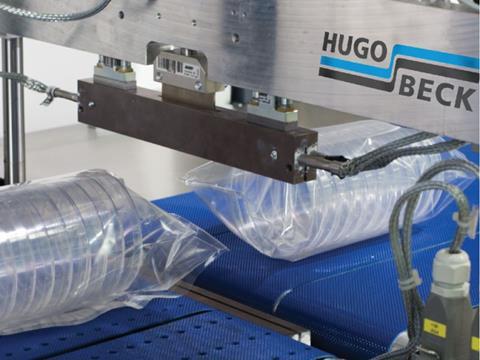 Hugo Beck is the world's leading manufacturer of horizontal flowpack, film packaging and post-print processing systems in the 3000 to 18,000 cycle-per-hour performance range.
Besides series machines, Hugo Beck also offers a wide range of custom-made solutions. Hugo Beck machines are used successfully across the globe in various industries, including pharmaceuticals and medical technology, cosmetics, food, print and paper, textiles, glass, wood and many others. By participating in interpack the company hopes to win new customers and boost its name in key markets.
Established in 1955 and based in Dettingen/Erms (near Stuttgart), Hugo Beck now has the world's most comprehensive manufacturing program in the film packaging industry for flowpack, bagged and shrink-wrapped packaging. The company's solutions are characterised by innovative servo drive technology, modular components and skillful connection of down-stream and up-stream systems.
The company offers stand-alone devices for smaller budgets but also high-end machines with a high degree of automation and first-class connection to downstream and upstream systems. Although supplying to a wide range of sectors, Hugo Beck's main focus is on pharmaceuticals, food, cosmetics, print and paper, household and construction.
In the last few years, the focus has been on the greatest possible automation, flexibility and availability. Mr Timo Kollmann, the company's sales director, confirms that automation has been the biggest topic recently and an aspect which the company will further develop to remain ahead of competitors Hugo Beck's key markets remain Germany and Europe but the company has customers worldwide. "The two key strengths that distinguish us from competitors are a high level of flexibility and bespoke solutions to meet individual customers' needs," says Mr Kollmann.
Hugo Beck will focus on two solutions at interpack: a type of flow packing machine for the pharmaceutical industry and a model integrating shrink packaging with robotic features. "Our presence at interpack will be a good opportunity to both increase our market share in the existing markets and win new customers, particularly from Europe. We feel that there are still a lot of customers in Europe who do not know us," says the sales director. He further explains that rather than focusing on mere lead generation, the company would like to use interpack as a platform for showing customers how Hugo Beck could provide comprehensive value-added solutions, not just individual machines.
"The biggest challenge in our segment is the increasing demand for cheaper machines. On the other hand this also presents an opportunity – our customers understand that investing in a high-end top quality product backed with technical expertise and innovation is always a good investment," says Mr Kollmann. "With this in mind, interpack is the ideal opportunity to raise awareness of what we have to offer and to introduce prospective customers to the lasting advantage created by Hugo Beck products."
More info: