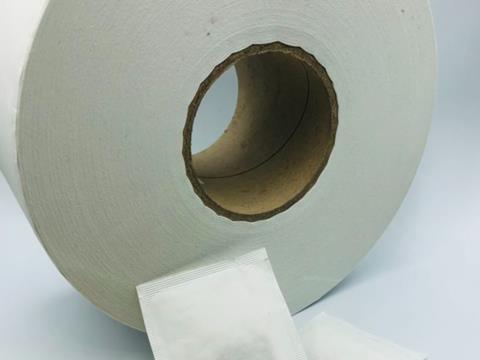 Lactips has developed a coating solution called Plastic Free Paper, which it claims provides an alternative to plastics in sealable packaging applications by maintaining the barrier properties of cellulose without impacting its end-of-life.
Working in partnership with the eco-organisation CITEO, Lactips combined its thermoplastic with paper to create a cellulose matrix coating solution that can be used for sealed packaging applications, such as foods that require oxygen, fat, or mineral oil barriers.
The solution, called Plastic Free Paper, is reportedly bio-sourced, home compostable, and heat-sealed. The company claims that its new solution can preserve and protect food while complying with food contact standards.
Lactips adds that its material is a natural polymer, in accordance with European Regulation no.1907/2006 (REACH), and is apparently exempt from the demands and restrictions set by this directive.
According to Lactips, tests have been carried out with the Centre Technique du Papier (CTP) in France and Papiertechnische Stiftung (PTS) in Germany, with the aim of identifying whether the solution impacts the recyclability of papers and cardboards.
Laurent Lyannaz, functional products and services project leader at the CTP, comments: "The CTP has carried out laboratory work on a natural polymer based on a protein developed by Lactips.
"The product was able to be applied and deposited with a conventional coating process (coating by wire wound bars) on various papers without any difficulties.
"The features of the coated papers confirmed that this biosourced product can effectively develop oxygen and fat barrier properties. These products were then tested for their recyclability."
The initial applications for Lactips' Plastic Free Paper are expected to involve replacing per- or poly-fluorinated alkyl substances (PFAS) for papers that need to be grease-proof. This includes applications in the foodservice industry.
Lactips says that its solution can also replace the sealable plastic layer for non-food packaging, including mailing films, or for dry and fatty products like tea bags, confectionary, and pet chews.
These initial applications from Lactips are expected to be available during the first half of 2022.
Lactips has previously partnered with BASF to market its water-soluble, biobased and biodegradable material prepared from natural ingredients, which it initially planned to roll out for packaging detergent products, with additional applications for the food processing sector.
Other companies have also turned to cellulose-based solutions for packaging applications, including Ahlstrom-Munksjö's monomaterial oxygen barrier technology with natural wet strength that it says is made of 100% cellulose fibres, also reportedly biodegradable and compostable.
In addition, earlier this year, Arla Foods, Paulig, VTT, and Wipak collaborated on a thermoplastic film made of cellulose and fatty acids, which can apparently used for injection molding, the coating of paper and paperboard, and 3D printing with the same performance as fossil-based plastic.