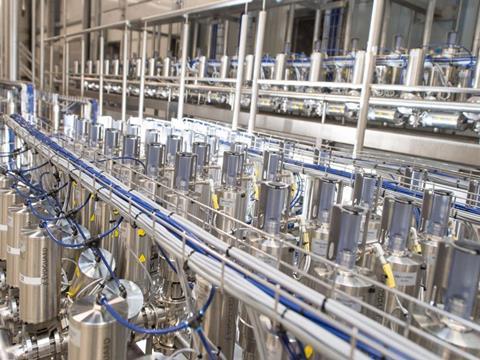 One quarter of a million and counting: Evoguard GmbH, a subsidiary of Krones AG, has manufactured 250,000 valves since 2010.
"The high quality assured by the "Made in Germany" production process, the energy savings achievable, the rigorous compliance with safety requirements in the development stage and in the process, have proved thoroughly persuasive to the decision-makers responsible in the food and beverage industries, and at dairy firms as well," explains Martin Zierer, Managing Director of Evoguard GmbH, adding that "the more than 1,000 users in over 100 different countries also evidence the widespread acceptance of these valves on the market".
Evoguard's valve technology constitutes a modularised array of components that enables the right model to be selected for each and every point in the production line, and contributes towards ensuring the lines' high outputs. For both the hygienic valves and their aseptic counterparts, only high-performance seal systems developed in-house are used, designed to comply with all the requisite stipulations. In addition, the parts involved can be precisely traced and identified. The Evoguard range of aseptic valves is also ideally suited for the pharmaceutical and biotech sectors.
It was in 2010 that Krones AG premiered its own valves, manufactured in-house. In 2014, the Valve Technology Division was hived off to form Evoguard GmbH, located at Nittenau in the Upper Palatinate. Nowadays the company produces valves and pumps, and has recently begun to manufacture tank safeguarding and cleaning systems as well.
More info: