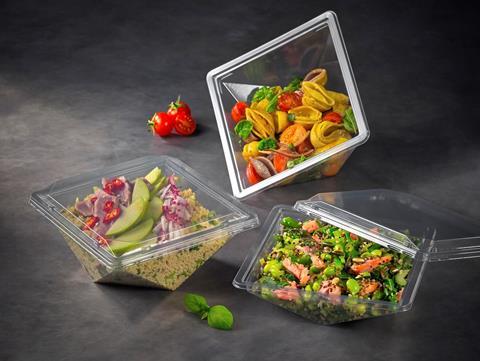 Klöckner Pentaplast launches its latest food-to-go packaging range called Jewel™. It is made from 100% post-consumer PET, an extension of kp's sustainable closed loop product offering, that meets the sustainability requirements of the retailer and the demands from the consumer with added on-shelf differentiation.
By 2022, the food-to-go sector is set to be worth an impressive £23.5 billion - and brands will undoubtedly compete for consumer attention. For brands with a focus on fresh food-on-the-go, eye-catching and impactful packaging – try the kp Jewel™ range for something a little different. In this competitive lunchtime market, time is of the essence; the key drivers for impactful, 'guilt-free' packaging are Millennials and Gen-Z who have attention spans of 12 and 8 seconds, respectively and are extremely environmentally conscious – making eye-catching design an absolute must to achieve on-shelf differentiation.
This unique collection has been creatively designed in a clever jewel shape, which sits flawlessly and perfectly balanced in the consumers hand with the clearest optics for full visibility of its contents. Once finished with their meal or snack, the consumer can look through to the bottom of the pack and see a clear recycling message thermoformed into the base of the tray asking them to 'recycle me again' to encourage recycling on the go and help towards creating a closed loop PET recycling stream.
Not only is this new product range designed as guilt-free packaging for the busy consumer, it was created with additional benefits for the retailer. Each pack can sit on the shelf at a clever 45-degree angle with the top in full view of the consumer. If shelf space is limited, they can easily stack on top of each other and are available in 3 different depths. Each pack has the option of a click shut lid which can be personalised for the retailer with thermoformed branded messaging by kp or can be heat sealed with a flexible lidding film, accounting for all capabilities of retailers that are different sizes.
With the food to go market increasing at an unprecedented rate, and consumers lacking time in their busy schedules, the Jewel™ range is available to all retailers and caterers. kp has taken into consideration the requirements and limitations of storage with specially adapted pack sizes to suit smaller street food outlets or cater for larger super markets.