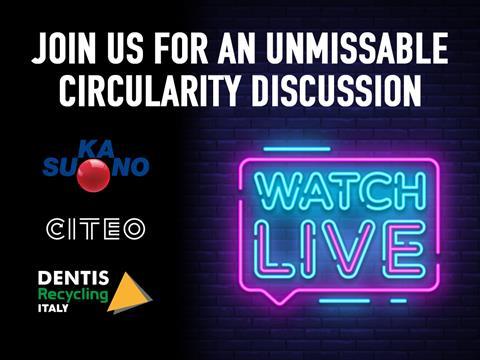 Following the success of our first series of live broadcasts, we're delighted to announce a new live discussion on the subject of exploring different approaches to circularity in packaging.
Brand owners are pursuing ambitious targets to realise universally recyclable or biodegradable packaging in the coming years – but in the face of multiple visions of a circular economy, how do they pick the right options? How is the wider packaging and materials value chain progressing towards replacing the linear model?
Packaging Europe hosts an expert panel discussing recycling, bio-materials, reuse, the role of LCAs, and end of life systems.
Featuring:
Alessandra Funcia (Sukano)
Valentin Fournel (Citeo)
Dr Roberto Tangorra (Dentis Recycling Italy)
Packaging Europe's Tim Sykes as host
Join us to listen to the discussion and put your questions to the panelists.
Where and when?
Thursday 6th August at 12:00 (Brussels, Rome, Berlin) / 11:00 (London, Lisbon)
The event will be streamed live on the Packaging Europe website and on our YouTube channel - be sure to subscribe and turn notifications on so you don't miss it! Click here to put the event in your calendar.