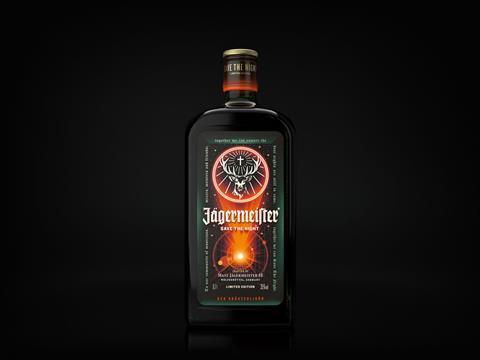 For the first time in its history, Jägermeister will change the front label of its iconic bottle across countries and continents, with the aim of supporting nightlife communities during the COVID-19 crisis.
The #SAVETHENIGHT bottle and initiative are backed by a commitment from Mast-Jägermeister SE to generate one million euros for the global nightlife community, including artists, creatives, bartenders, and club owners who are facing unprecedented economic turmoil.
The design agency behind the new look, Here Design, sought to focus on and celebrate the positive aspects of the night – high energy, vibrance, allure, playfulness. It took this creative insight and partnered with illustrator Max Löffler, a German artist known for his connections to music and underground culture, to collaborate on the bottle design.
The new illustration includes a portal of escapism on the front label, with a shining light beam representing a beacon of hope and positivity in dark times. The beam aims to project the distinctive Jägermeister stag as a symbol of optimism and reassurance. The label inverts the classic Jägermeister greens and oranges, amplifying the night-time vibe while attempting to honour the original, iconic Jägermeister design.
"Jägermeister came to us with their idea of 'saving the night'; a fantastic initiative that is helping the very community that has helped them over the years," says Billy Bridgeworth, creative director at Here Design. "Putting confidence in us to change the bottle across continents for the first time in its history is a big honour, but more importantly the initiative shows how serious Jägermeister is in giving back and leading the charge for other drinks brands to do the same. It's a special liqueur for a special time, and we are pleased to respond so quickly to the brief and bring this bottle to life."
Gunar Splanemann, Head of Global Innovation & Design at Jägermeister explains: "With this unique initiative, we want to emphasise the importance of stepping in and helping. Global nightlife is truly under severe threat. We offer our fans a bottle they will hopefully love, with our approach to solidarity, which I am sure they share. Here Design has helped us bring this exceptional project to life with a new bottle symbolising the spirit, the strong cohesion and the high devotion that the global nightlife community stands for and that Jägermeister has been an integral part of for decades."
The #SAVETHENIGHT Limited Edition Bottle will be available from 10th June in select stores and e-shops in European markets.